When I was following the Ironman World Championship Hawaii the first time in TV I was blown away. To me it seemed more than impossible, that a human body would be able to accomplish such a beast of a race: 3.8 kilometers of swimming, 180 kilometers of cycling, followed by running a full Marathon of more than 42 kilometers. All of which in one take, during one single day, within a maximum available 17 hours. Triathlon fever caught me right on this day, and since then it has not gone away until today. More so – since past Sunday I can tell myself proudly: I am an Ironman!


Picture above: My race in numbers. A little more than 12 hours was just within my expectations. How exactly my day went and which highs and lows I experienced you'd be able to read below in plenty of detail.
It was about ten months ago when I registered for the Ironman event in Canada's province Quebec. While I'd been training for triathlon over many years now, ever since I registered for that specific event I've been training day-in day-out, approximately 14 hours per week in average; be it in the water, on the bike, or in my running shoes. All those efforts, the discipline, sacrifices during the past twelve months finally led up to a truly breathtaking race week in Mont-Tremblant, Quebec, Canada; and it was all worth it. So many impressions, so many experiences within only five days – please join me on the ride over the next paragraphs (roughly 8000 words, approx. 55 minutes reading time – which you most likely won't regret).
If you're not into reading so much, feel free to watch some video impressions (amateur clips from the race) or the professional edit (Facebook video provided by the organizer. I'm not in it, unfortunately.)
---
Content:
Thursday: Arriving in Mont-Tremblant
---
Thursday: Arriving in Mont-Tremblant
It had been a couple days now, that I'd been going through my endless lists of things to pack for the weekend. More than one hundred items… the bike with all its components, my wet suit, race day nutrition, tools and clothing, spare parts. On Thursday morning the car was fully packed, and we started our two-hours north-east bound journey from Ottawa, Ontario towards Mont-Tremblant, Quebec, at beautiful August weather. How convenient, to be living only 180 kilometers away from the competition venue! Most other athletes would have to travel much further distances; more than half of them were coming from 40 different states of the U.S., many others even from overseas.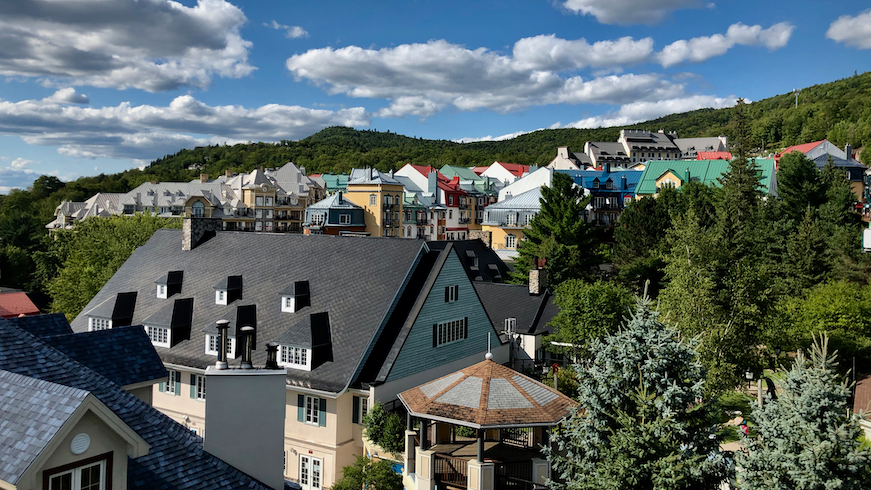 Picture above: Mont-Tremblant is a beautiful little tourist village. During winter, it's as famous skiing location, in summer mostly visited for hiking and cycling.
We arrived in Ironman Village during the early afternoon. The touristy village presented itself in the nice weather and it was obvious, that most of its tourists would come in winter: there were multiple ski lifts, everything is very walkable. Under the blue skies and its little white clouds, the colorful houses and clean walkways seemed to come right from some arts movie.
No doubt it was race weekend – on every corner an Ironman branded sign reminded every visitor what was going to happen in three days. A huge white tent was put up in the middle of the village, where multiple events would take place over the next couple of days, and on Sunday our transition zones would be installed. Some athletes were already present and together with their families were strolling around the streets. So did we, getting familiar with the venues, and visiting Ironman Expo; which we couldn't leave without purchasing some overprized souvenirs, of course.
After I had picked up my starter kit, we checked-in to our hotel, about five kilometers out of the main village. We would have to figure out later how exactly our logistics on race morning would look like.
An easy evening run closed the day and now it was all about getting as much rest and sleep as possible.
---
Friday: Eat and brief
First thing on Friday after the breakfast was a last short bike ride before the actual race. Easing the legs, checking the setup, and having a look at the track. I rode one round of the running course and met some others who had a similar idea.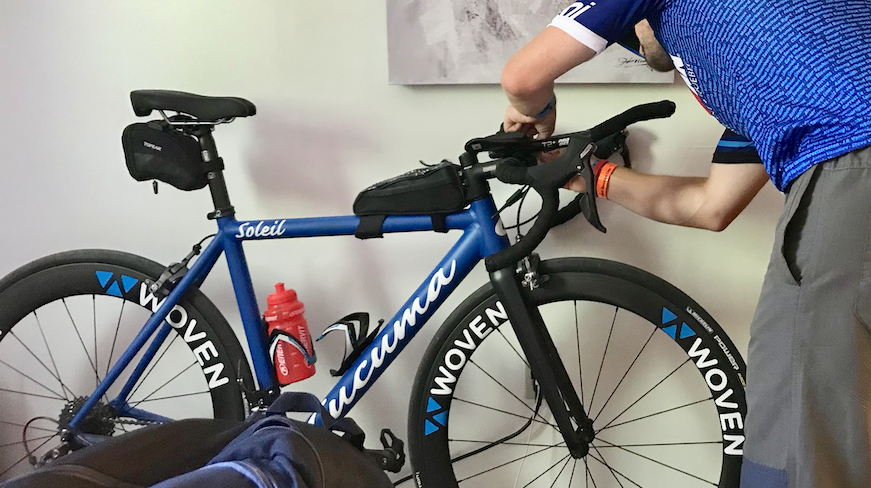 Picture above: Last technical check-up of the bike in our hotel room. It had to be turned in to transition the next day.
On late Friday afternoon, the official Ironman Banquetwas held in that large tent – a local caterer served more than 2000 people at once with warm dinner. The selection was alright (salad, pasta, fish, potatoes, buns, chicken), quality was ok, too. After the meal a mandatory Athlete Briefingwas scheduled: Many organizational announcements regarding the next two days, the most important race rules were explained once more, along with the respective penalties. At this point I realized the first time that I am actually in the middle of final Ironman preparations. So many things had to be considered: when and where which of our five transition and special needs bags had to be dropped off; which penalties were given for which violation, like drafting, littering, blocking, or passing in no-passing zones. Which checkpoints had to be passed to make the cut-offs; locations of all the aid stations; order of nutrition served at those stations. Most of it was already known to me. But still, being confronted with all of that information was overwhelming and my joyful anticipation increased as much as my respect for the competition itself.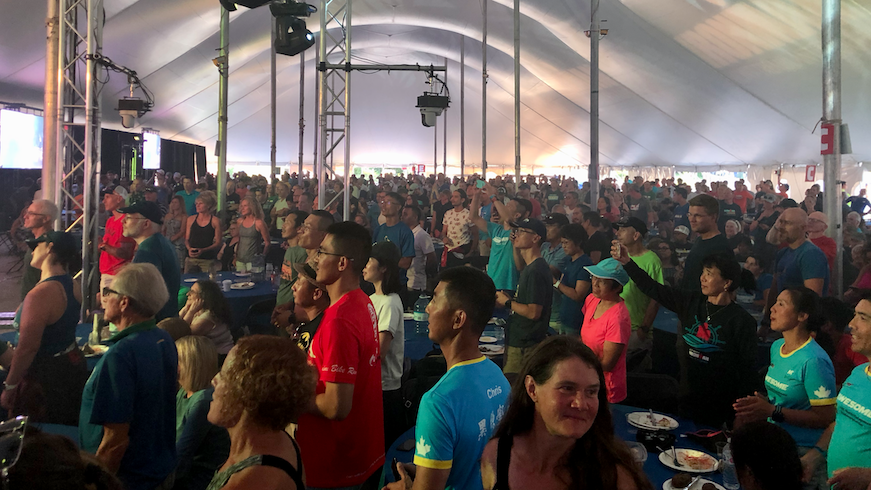 Picture above: Final athlete briefing after a joint dinner within the large event tent. Also in the picture: this year's oldest competitor – 75 years old! (bottom left). Two days later he'd finish his 50th Ironman and it took im about 16 hours.
---
Saturday: Final preparations
The fourth discipline of triathlon is transitioning from one sport to another, they say. From swimming to cycling, from cycling to running. That's why athletes have to prepare their transition zones (T1 and T2) accordingly the day prior to the race. Using dedicated plastic bags, marked with each individual's race number, everyone puts in it what they'd need in transition: helmet, cycling shoes and gloves, sun screen, nutrition, running shoes, socks, towels, sun glasses, hat, etc. There is one bag for T1 and another one for T2.
I had very carefully packed my bags already yesterday, based on a long and exhaustive list I created on my computer, listing all the items I would need at different stages of my race. Triathlon is a logistical nightmare!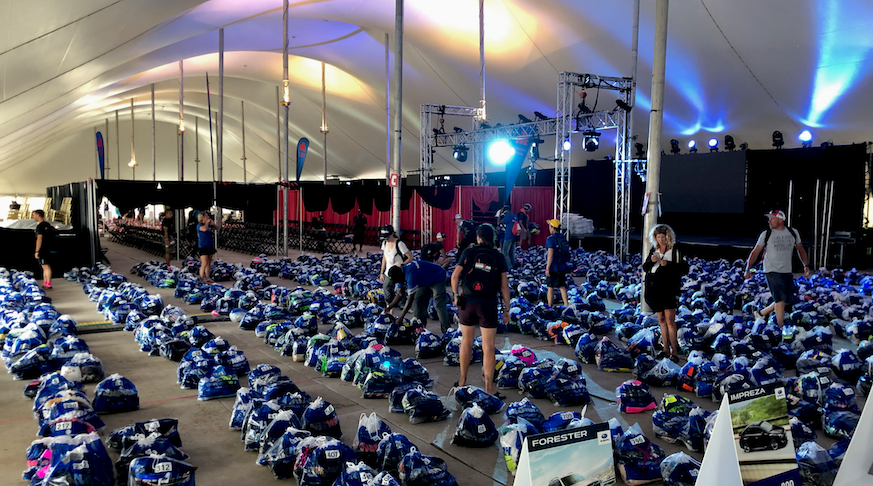 Picture above: All the blue bike transition bags, ordered by race number. In the background you can see the actual changing area. On the other side you'd find the same picture with red bags for the run. One day prior, that same tent was used for our athlete briefing.
The bike also needed to be dropped-off to the transition area on Saturday. It was only on Saturday morning that I remembered to check my tyres for potential damages like small pieces of glass or stone; never done that before, so now was probably a good time. The front tyre looked good, but it was the back tyre where I found a small glass particle deep into the rubber, which couldn't be removed. The same tyre also had a small cut on its side that did not look very promising. Was that a serious issue? Would the tyre hold its air for another 180 kilometers? Was I just getting a bit nervous? Normally, I'd not have bothered much. 20 hours before competing in an Ironman is a different situation, though, and I started imagining all different kind of nasty scenarios caused by a damaged tyre during the race. The fact that our hotel room window was directly above a neighbouring bike shop seemed to be an obvious sign, though. So even though that shop seemed to be quite busy fixing everyone's too late discovered little issues, I decided to get in line for a new tyre. It was 10AM, and there were still six hours left until transition would close. Waiting in line didn't take long at all and the bike mechanic smartly confirmed my concerns and quickly changed the tyre. I was calmed down, and so was my fear of technical defects during tomorrow's event.
After an early evening meal at the lake we went to bed as early as 8:30 today. Falling asleep wasn't easy, though, and it took a long time until my wild and crazy thoughts made space for some mental relaxation. In only seven hours I'd have to wake up; never before during my training months I had to get up that early…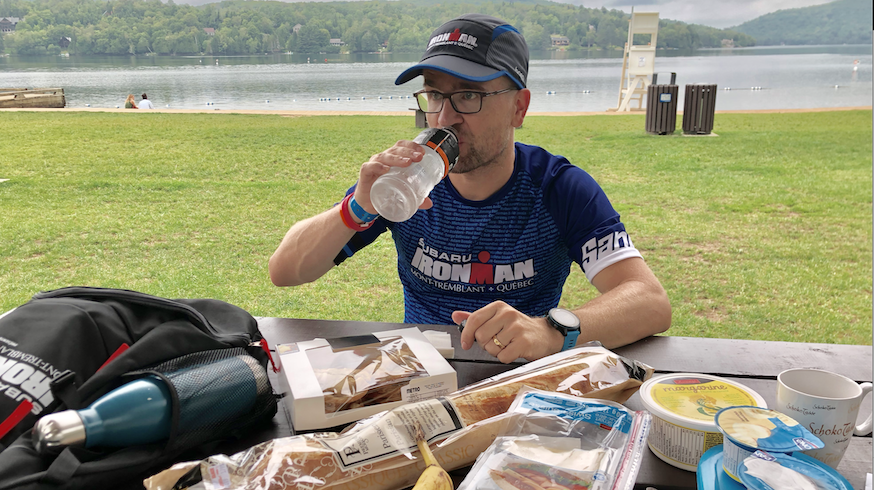 Picture above: My last concentrated calorie intake during dinner at the lake, Saturday evening before the race. Not necessarily the healthiest selection right there, but that has never been one of my biggest strengths.
---
Sunday: The race
3:30AM!
I really did not sleep much during the last night before the race. My head was full of thousands of thoughts – you start thinking about all the most important things you should have packed and prepared. Are my running shoes in the correct transition pack? Did I pack them at all? Is there gonna be enough tools on my bike? Is only one spare tube even sufficient? My ringing phone was luckily ending this weird half sleep, and race morning was here – today, I'd see if I really was capable of finishing a long-distance triathlon!
We planned out our race morning logistics pretty well: Taking the prepared food out of the fridge and place it in the remaining bags. Double-check all the swimming equipment. Put on the tri suit. Take everything down to the car and join the hotel breakfast buffet at 4:00AM. Trying to get some toast with butter and honey into my stomach, which wasn't as easy as it is usually, three hours later; some coffee helped. It was still dark when we boarded the car in order to get one of the better parking slots, as close to the transition area as possible, to avoid having to take the bus shuttle. The strategy worked out well; we took all of those bags and carried them only five minutes over to the big tent. The vibe there was excellent – not at all hectic, rather calm with a bit of tension and excitement and focus. Some easy tunes were playing while the moderator quietly welcomed the rising number of athletes. The big parking lot with about 2500 diligently placed bicycles worth millions of dollars was pretty well lid, many brought their own head lights or torches.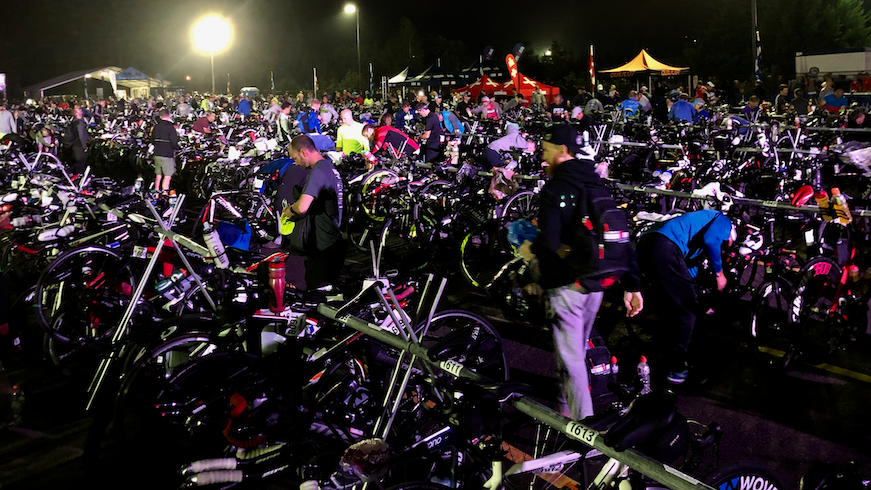 Picture above: Morning concentration. Athletes doing their final adjustments in T1: inflating their tyres, checking their brakes and mechanical parts. It is around 5:15 in the morning, 90 minutes before race start.
Firstly, I went into the changing tent, to place my nutrition (mostly drinks and bananas) into the transition bags that were already laid out the day before. I then walked to my bicycle, an air pump in my hands, to inflate my tyres. It is common to let some air out of the tyres overnight, to prevent them from blowing up. It does happen sometimes, that during the day the hot asphalt is heating up the air in the tyre to a point that it explodes.
After the correct air pressure had been reinsured, I attached some cheese sandwiches (packed in aluminum foil) onto my bike frame, put two water bottles in its holders and some energy bars in my stem bag. Luckily enough and just to make sure, I also checked my brake adjustments once again – only to realize that they had to be readjusted. By now, there were more and more athletes joining the scene, everyone performing their own morning prepration ritual. Still dark outside that was truly a magical atmosphere! Who knows what was going on in everybody's mind at this point?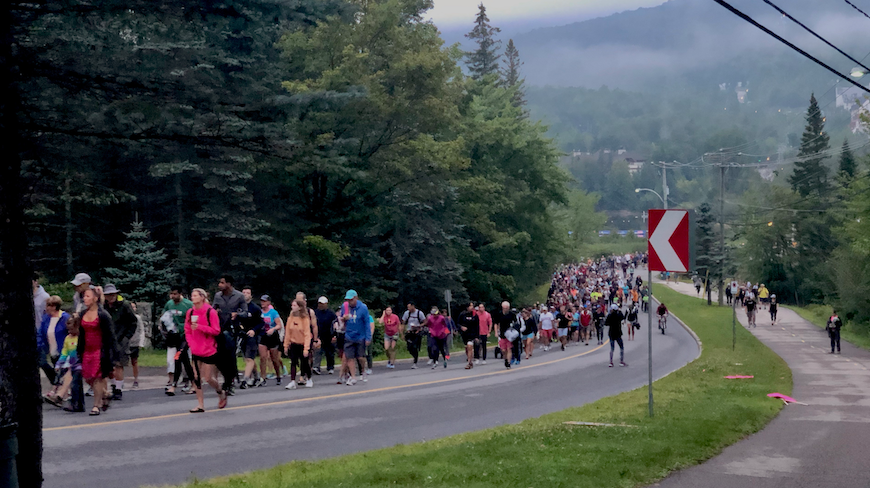 Picture above: A caravan of athletes, their families and crews walking from transition to the swim start, roughly 10 minutes away from each other. Later that day, we had to run this hill multiple times.
What followed next was the so-called body marking. Volunteers wrote an athlete's race number on their arms, and their age on their legs. Meanwhile, my IronMate Christina (who proved to be the best one-person-support-crew one can possibly ask for) was taking my air pump back to the car.
The sun began rising behind a thick pillow of clouds when we started our ten minutes' walk towards the swim start, at the beach of Lac Tremblant, along with thousands of fellow athletes and their own support crews and families. At some point I stopped to get into my wetsuit. I put a ton of Vaseline onto my neck and under my arms, hoping to prevent any chafing marks during the swim. More and more people arrived, and it was getting pretty tight at the waterfront. Numerous people were saying good-bye to each other, wishing each other success, luck, stamina, and most likely a robust digestive system as well.
I was on my own. I fought my way to the waterline and still had enough time to get into the nicely cool water, flooding my wetsuit and doing some easy strokes as a light warm-up. The National Anthem had already been sung, and now the beat coming from the speakers was anything but calm, loudly waking up the dizzy brains of thousands of black-suited, yellow-headed human bodies. Noticeably, the tension became greater and greater. I lined up where I saw the sign with an anticipated swim time between 1:20h and 1:25, to make sure I can start amongst equally-levelled swimmers. Thus, to avoid unnecessary overtaking manoeuvres in the water. The Daylight allowed a beautiful view across the lake, with low hanging clouds between the surrounding mountains. No wind, no waves, around 17 degrees Celsius air temperature. In other words: A beautiful day to go swim!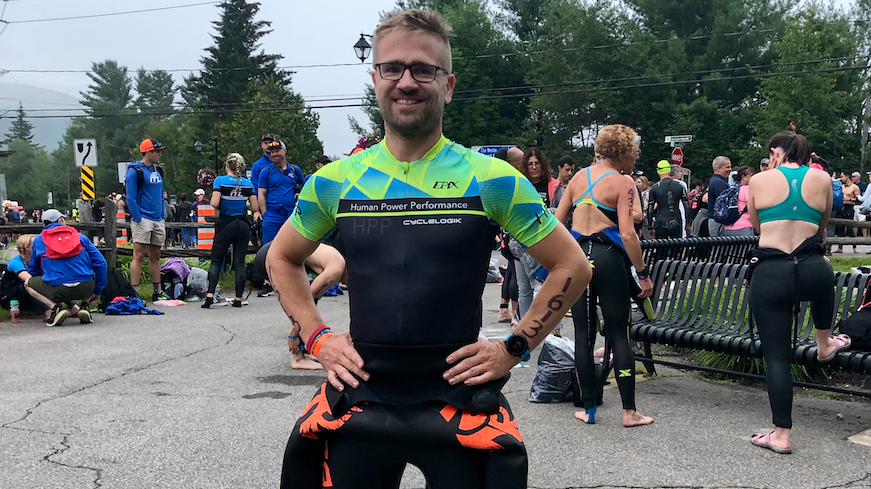 Picture above: Being in a good mood before the swim start, wet suit half way up. Arms are already marked with my race number. Only twenty more minutes!
And then it started – a loud bang, small fireworks, and the professional men were off into the water; among them Lionel Sanders from Canada, who would qualify later today with a second place in the overall ranking for the World Championship (at which he already scored second in 2017). Just some moments later another explosion and the professional women were on their way; among them Sarah True, fourth place at last year's world championship. Only a few minutes later it was time for everyone else: there was no turning back as the third bang sounded and the Ironman Mont-Tremblant 2019 had finally started for all age group athletes; among them Ludwig Fichte, complete newcomer on the long distance.
Swim: 3.8 kilometers
The race was on! Shortly before 7AM I ran into the water, along with over 2500 other swimmers. My biggest physical challenge so far had started. A mix of euphoria, uncertainty and joyful anticipation overcame me while I was stepping into the lake. The situation almost seemed unreal. Countless times I had watched videos of exactly these moments, each time I got goose bumps, and now I was right in the middle of it – and in front of me 226 long kilometres to the finish line.
They organized a so-called rolling start, now mostly standard in Ironman competitions. The purpose is to pull the field a little apart – every few seconds six athletes were let into the water. Nonetheless, it was still wild at the beginning, for someone who is used to have a full pool lane for himself every week in training. I tried to stay calm, to breathe evenly and not to swim too hectically.
I ignored the light hits I received from my left and right, slowly getting into my rhythm. The swim course at Lac Tremblant consisted of one single lap – basically 1900 metres in one direction, and then 1900 metres back again. Or in other words: 166 lanes in my community center's pool. After the first 300 meters or so it became much calmer, and I was glad that both my swimming goggles and cap were still on my head. From time to time someone crossed my course from the front or from behind, or you get an arm slammed on your head or calves once in a while, or you swim unintentionally into the hips of another swimmer yourself – the visibility under water was not the best. But generally, everything stayed under control, and I concentrated on my arm stroke; not too strong, but steady, not too much leg involvement, but enough to maintain a stable position. Always rotating actively, controlling the direction every five to ten arm strokes. The course was marked with large floating buoys, each one numbered and reasonably well visible even for my short-sighted eyes. I knew that there would be 12 orange buoys in one direction and 14 yellow ones in the other; moreover, my watch vibrated every 500 meters, so that I could always estimate quite well how much water I had in front or already behind me. On the way back the route was secured by some helpers in kayaks, which was very welcome as an additional possibility of orientation and a nice safety feature.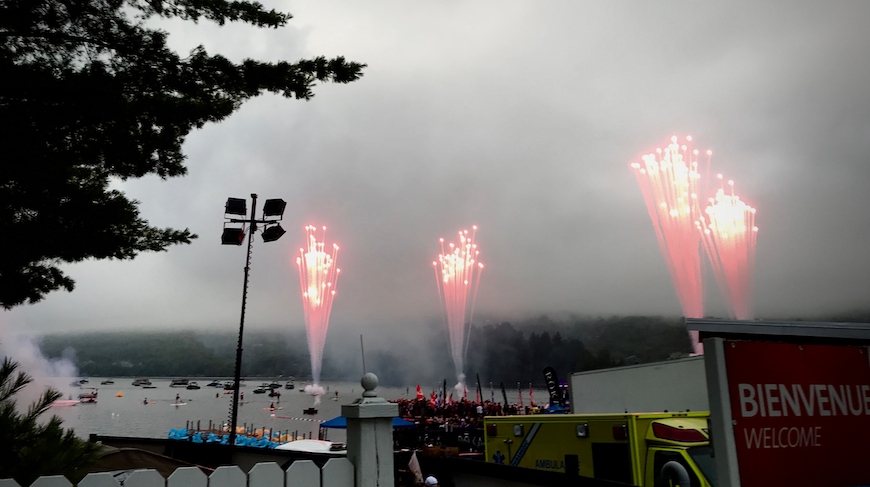 Picture above: Fireworks to start the competition – 8th annual Ironman Mont-Tremblant! Within the following 15 minutes, 2500 athletes ran into Lac Tremblant and started their long day.
After almost half of the race I reached the first of two 90 degree turning points where it got hectic again – suddenly I was surrounded by dozens of swimmers, each one of them energetically defending his position and striving for the ideal line around the buoys. Arms and legs wherever you looked. Stay calm, I told myself, don't get confused, keep crawling. Soon after, the second turning point after was also passed and so was half of the swim distance. I felt good, my goggles held tight, no water in my ears, no sign of cramps in my calves, and the wetsuit fit better than in my training sessions, didn't scratch my neck and didn't restrict my ability to stretch my arms as usual either. I kept my pace, but after about 2.5 kilometres in the water I indeed was looking forward to the end of that first discipline. Patiently, I worked from buoy to buoy until I finally identified what must have been the finish in the distance; at least I could hear the spectators, the music and the moderator. Wow, what a feeling! Almost finished the first part, my former discipline of fear, and front-crawled almost four kilometres at once! I remembered my first crawl attempts about five years ago; I wasn't able to swim ten strokes, after not even 15 meters I used to be completely out of breath. For months I tediously learned how to swim properly, slowly but steadily increasing the distances. These thoughts gave me some good push, I increased my frequency and intensified my kick in order to help my blood starting to circulate again and to avoid falling over right after suddenly standing up coming out of the water. The strategy worked and after one hour and fourteen minutes I exited the lake in a good mood and without pain. Besides countless spectators there were also numerous volunteers on shore who supported the swimmers to peel them out of their wetsuits – extremely helpful (and funny to watch, too). With the suit in my arms I jogged into the transition zone and still couldn't believe that I had managed the swim so smoothly. I now definitely felt at home in the competition, but the really big rocks were still ahead of me!
Transition 1: Swim to bike
In T1 I grabbed my blue transition bag and looked for some free place in the tent that was filled with far too many people – as an average swimmer you will always be in the middle of the pack after the first discipline. I first sat down for a moment and took one or two deep breaths. Don't get too hectic now – I would spend the next six to seven hours on the bike; it would not only be unfortunate to forget something; it would also be unnecessary to be rushing only to save a few minutes. Instead, I cautiously worked through the ritual as I've done dozens of times before in my head: Breathe again. Drink something. Put on your helmet and your sunglasses. Apply sun cream. Spread the chamois cream as generously as possible onto the sensitive parts. Dry your feet and slip into the cycling shoes. Put on your cycling gloves. Put the wetsuit, goggles and swim cap back into the transition bag. I planned to put on a second pair of cycling shorts with some extra padding, but it somehow was gone, who knows why. Well, I could have forgotten way more important things than just an extra pair of shorts.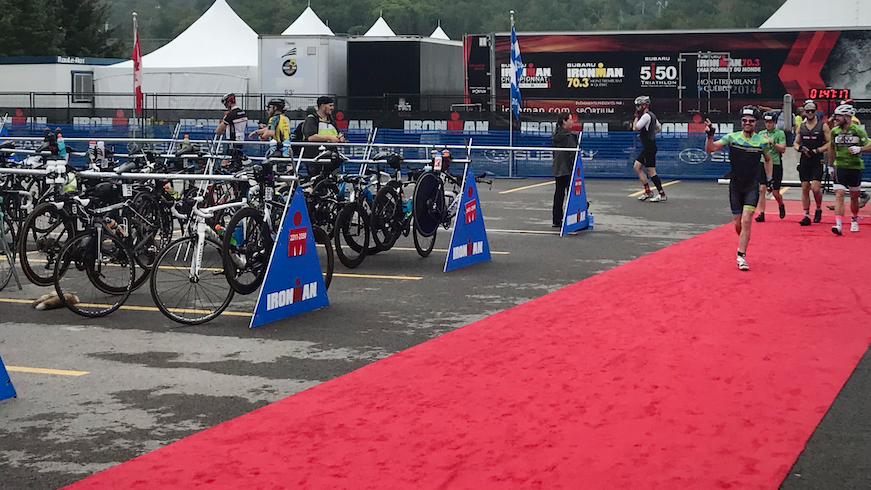 Picture above: My clothes still soaking wet, but I was still in a good mood while exiting the transition tent, running towards my bike. Many hours in the saddle ahead of me.
A bit confused by this and ignoring my well-thought-out ritual I grabbed a banana on my way out of the transition tent and swallowed it much too fast – not realizing that I would regret that for the next four hours…
I ran to my road bike, turned on my Wahoo bike computer, and left T1 after a little under 15 minutes.
Cycling: 180 kilometers
The weather was perfect. Around 18 degrees, cloudy sky, no rain and still no wind. Nothing stood in the way of a beautiful bike tour! Things were good when I started pedalling, not pushing too hard trying to get past the roughest traffic at the beginning. The first kilometres were hilly, the road not very wide, but the density of bicycles extremely high! So, concentrate and start slow. One rule in long distance triathlon states that you are not allowed to draft behind other cyclists – you have to keep at least twelve meters distance to the person in front and in case of passing you must do so within 25 seconds max. Pretty unrealistic with so many cyclists especially in the first part of the track; hundreds of athletes were directly in front of and behind me. I had heard that the drafting rule at Mont-Tremblant is usually enforced quite strictly (by official referees on motorcycles but also "undercover" on their own road bikes among all the other cyclists), so I should better stick to it as much as I could during the race. If a violation is detected by an official, you have to expect a time penalty of five minutes. If several such warnings are given, there is a risk of disqualification.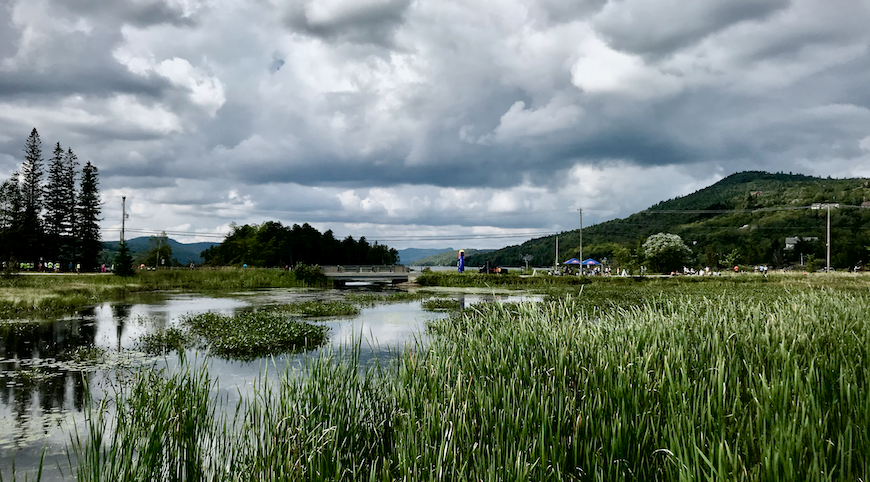 Picture above: The race course in Mont-Tremblant is just beautiful. And under these weather conditions cool enough, too.
Muscularly, cardiovascularly and mentally I felt very comfortable right from the start on my beloved Cucuma vehicle made in Darmstadt, Germany; and tried to pedal with not much more than 200 watts even on ascents (in comparison: the favourite, Lionel Sanders, pedals 300 watts on average!). Quickly, though, I noticed that my stomach didn't seem to like participating in today's competition – or simply resented the fast swallowing my transition-banana followed by a hasty bottle of Powerade. Unpleasant (but not unbearable) stomach cramps started to grab my attention and I immediately had to think of a triathlon friend who had to abort his last long-distance race because of exactly such kind of symptoms during his bike ride. Those issues were totally new to me – I remembered coach Alan telling me more than only once, that something unforeseen willhappen. Accept it, deal with it, stay calm. Ok, I thought, stay calm. Keep pedaling. I've gone through worse conditions in training. But still – would my stomach be willing to even digest more of my carbohydrate-heavy nutrition, and, more importantly, will it stay inside? The nutrition strategy for the rest of the race (which meant for at least the next ten hours) basically was concentrated sugar water with electrolytes (made by Tailwind), energy bars, and cheese sandwiches now and then. But here we go, couldn't help it – as long as the cramps did not get worse, I just would have to deal with the situation; making sure that all the remaining calories I'd consume slowly and carefully. I kept pedalling and started thinking about different things.
Within the first ten kilometers on the first of two rounds the course had to offer three rolling hills going South-West, along Montee Ryan. Then, we had to turn North onto Highway 117; which basically was an Autobahn, closed to traffic due to the event! Needless to say, that we had the comfort of riding a non-technical course on great asphalt (for Canadian standards, anyway), having enough space, and a great view – what else to ask for! The following miles were going slightly uphill, until the first big fun of the day: about one kilometer purely straight and steep downhill, hitting 70km/h flying into the valley. But oh well, not too long after, up the other side.

Picture above: Fast descent just before a turn – good reason to get onto your upper handle bar and rest your back a bit. When riding in aero-position you can't use your brakes and it is harder to control your bike through a turn.
Time flew by fast on the highway. Every 18 kilometers there was an aid station at which I kept exchanging an empty with a full water bottle while driving by. Also, I kept sipping on my sugar drinks, carefully, and ate two energy bars during the first two hours. The cramps in my stomach did not go away, but also, they did not worsen. Soon, after roughly 75 kilometers, today's first real challenge was close: the hilly part of the course. Chemin Duplessisindeed is some nasty road for cyclists. For about ten kilometers and a total elevation gain of about 350 meters, the athletes have to manage multiple short but very hard inclines, up 14% steep. Very exhausting, it is hard to find your rhythm. And you know, that you have to do it a second time three hours later. Again, I tried to not push too hard while consuming enough fluids. After all, there'll always be a downhill; which I mainly used to actively recover my legs. By the end of the first round my average speed was slightly above 30km/h – a pretty good baseline to start the next 90k from, and a pretty good speed given the challenging elevation profile.
The second round was much harder than the first, mentally as well as physically. It started with a very short stop at the so-called Special Needs Bags Station, in which I had prepared some additional food and drinks. After I stopped, a friendly volunteer shouted out my race number, another friendly volunteer handed-over my bag within a matter of seconds. I grabbed my cheese sandwiches and refilled my bottles. After less than two minutes the whole procedure was done, and I was back in the saddle. It was getting warmer, though, while the wind started to blow from all directions, obviously trying it's best to always blow against my direction of travel. My stomach was still quietly rebelling, and I started to regret not having found my second layer of bike shorts. But even after four hours and more than one hundred kilometers pedalling my mood was still positive and I enjoyed the ride. It was still an unreal feeling, being a participant in this crazy event. By now, all the cyclists were spread across the course quite evenly. I'd loved to fight the boredom with some chatting, which would have been considered as a rule violation, though. So, I kept all conversation very low, not talking more than just "On your left"while passing, or "Thank you"towards the volunteers at the aid stations. To get rid of your garbage (i.e. empty bottles, energy bar packaging), every aid stations was equipped with two hockey goals (including a goalie!). Another way of getting some entertainment, at least every 18 kilometers.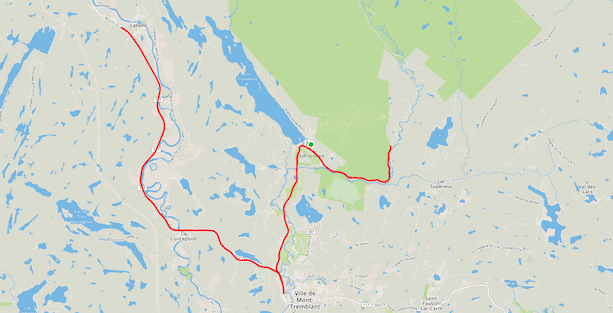 Picture above: Cycling course of Ironman Mont-Tremblant. Two rounds had to be completed, each of which 90 kilometers long. A total of 1800 meters of elevation had to be covered on the bike.
After 137 kilometers I was at a point where I had never done a longer training ride than that before. Unknown territory right there! My legs were getting tired, my neck started to hurt, my stomach was still making its thing which I was kinda used to by now. 40 more kilometers to go. Oh, and there was Chemin Duplessisstill ahead of me, too… 20k before the finish line I had to focus once more to conquer the remaining of a total of 1800 meters of elevation on the bike course. As expected, it turned out to be much harder than the first approach. And so much further, too! The closer I got to the final turning point, the more relieved I felt, having almost managed that big chunk of the race without any technical defect, without a flat tyre, without a crash, and without a major stomach rebellion. After a little more than six hours I got off my bike, just as euphoric as I was when I started the ride. My belly cramps had disappeared at least temporarily, the atmosphere was fantastic, music, so many people, so many athletes! Among all the spectators I even spotted Christina, who persistently kept cheering for me multiple times on the bike course already. Another boost of motivation for me, and off I went into the transition tent.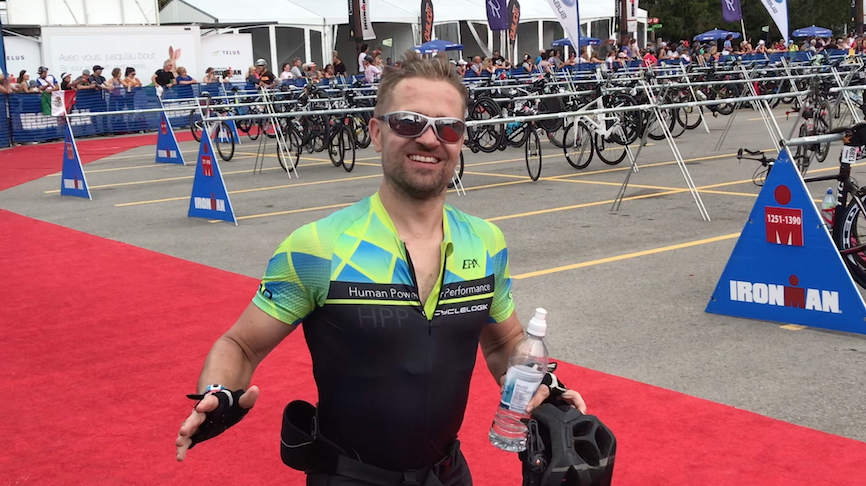 Picture above: 180 kilometers done! Hard to believe, but I actually felt some kind of anticipation of the event's running piece; after more than six hours on a bike saddle you want anything but sit.
Transition 2: Bike to run
This time around there was more space available in the tent. The field of athletes spreads out quite a bit on such a long course over so much time. I looked for my second transition bag, before finding one of many free seats in the changing area. Same procedure as earlier today: breathing and embracing the atmosphere. Taking off the shoes, helmet, and gloves. Changing socks and slipping into the running shoes. Putting on the race number for the run. Applying another layer of sun cream. My stomach felt good by now, my heart rate was surprisingly low. I was not completely exhausted, unlike in some of my training sessions during which I biked not even half of today's distance. Seems like I paced myself well enough and didn't do too many things wrong. But wait – running a full Marathon now? After already way more than seven hours of endurance sports? That seemed to be just totally impossible to me now. Even more impossible than back in the days, watching my first Ironman in TV, before even becoming a triathlete myself. I completed three stand-alone marathons over the past years, one of which only two months ago; and it hurt, it was extremely exhausting, even though I was fit, came right out of a good night's sleep, and neither did I have liters and liters of sugar water in my belly nor 180 bike kilometres in my legs. But oh well – I was here now, not laying on the ground, able to walk upright, and I paid a whole lot of money to do that. More than enough reasons to prove myself wrong and to see what would happen! After all, time was on my side. About ten minutes later I left transition (I also left the banana in my bag this time) and started an easy run. Let's go!
Run: 42.2 kilometers
Right at the start I once again saw Christina on the side – she seemed to be everywhere, still cheering! That gave me yet another boost, but my legs felt weird. Somewhat heavy, although my pace was quite ok, given the circumstances. 5:37min/km wasn't bad but felt much slower. This was known from training, though, I just had to steadily keep going. At some point, it would hopefully get better. No clue, what time it was at this point, but I did know that I would have enough time to reach the finish line before it would close at midnight. The sun was still high up, it couldn't be much later than 2:30. At some point, though, the good mood would have to fade away, along with all the drive and energy, so I decided to enjoy the moment and keep moving as it was possible.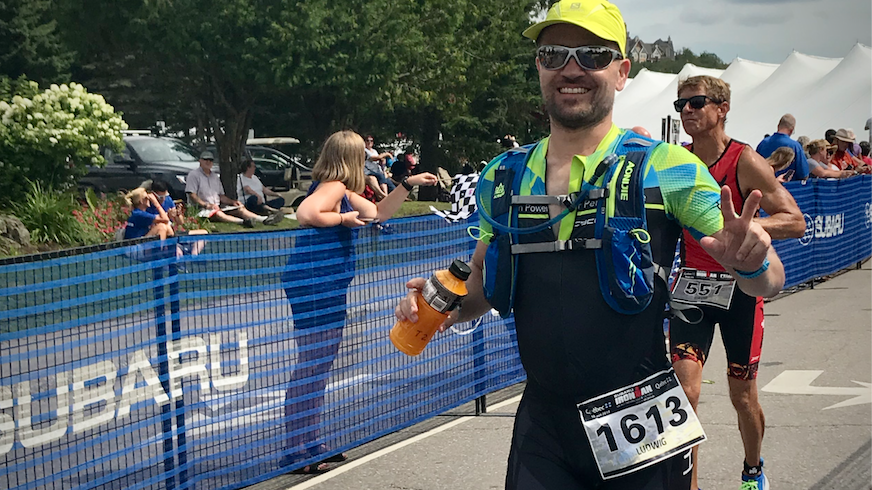 Picture above: Starting the Marathon, about 7.5 hours after the race start 150 calories in my right hand, 1000 calories on my back. At the end, I wouldn't even consume half of it.
The first kilometers were hard. The course was constantly going up and down, before it became rather flat after around six kilometers, following Le P'Tit Train du Nordthrough the woods. Every two kilometers there was an aid station – ice, water, electrolyte drinks, bananas, energy gels. Not to forget all those countless volunteers, who not only provided us with nutrition but also with motivation and mental support. Between kilometers 6 and 14 everything went quite well. I was making progress, my pace was still satisfying at 5:45min/km. Sure, it was exhausting, but I was still able to smile at the spectators, thank the volunteers, and encourage slower runners to keep going. A couple of kilometers after the first turning point it started getting harder. My energy resources were nearing their end, I had to switch between running and walking more and more frequently. At each aid station I tried to get enough water and coke and ice to cool myself down. Once again, my stomach sent a reminder of its existence, not really liking all the sugary fluids that I kept swallowing regularly.
Towards the end of round one I had to climb those annoying hills again, back to the event village. I could still smile and tried to keep my pace which was down at 5:55min/km in average now. Kilometer 22 turned out to be the psychologically hardest part of the run, but strangely enough the most motivating one at the same time: The course forked towards the finish line on the left, and the second loop on the right. Hundreds, maybe even thousands of spectators were making noise and gave an idea about what it may feel when being allowed to turn left 20 kilometers from now. But, that also meant I head to run that whole loop once again. Including the hills.

Picture above: At kilometers 21 and 41 a big video screen was playing five-seconds-clips that had been recorded by the athletes' families and relatives and friends. A very cool idea and a very welcome boost of motivation at the half-way point. My very own IronMate Christina turned out to be the best support crew one could imagine! Here you can the watch the video.
First though, there was some downhill exiting the village, followed by some flat parts along the lake. I met Christina yet another time (tenth? eleventh?…), had a short break. She let me know that I was looking good and currently on track for a 12-hour-finish before 7PM! Well, true, but only if I'd be able to sustain my current pace for another half marathon, which at this point did not feel realistic. I still felt quite ok, definitely better than during the last third of my previous Marathons, but I also had 20 kilometers ahead of me. Sooner or later, I thought to myself, I would hit the wall and feel all the pain. Just not yet, and until that point would come, I wanted to keep going. Christina joined for the next kilometer, after which I again was left to myself; and to all those unbelievably motivating spectators along the course.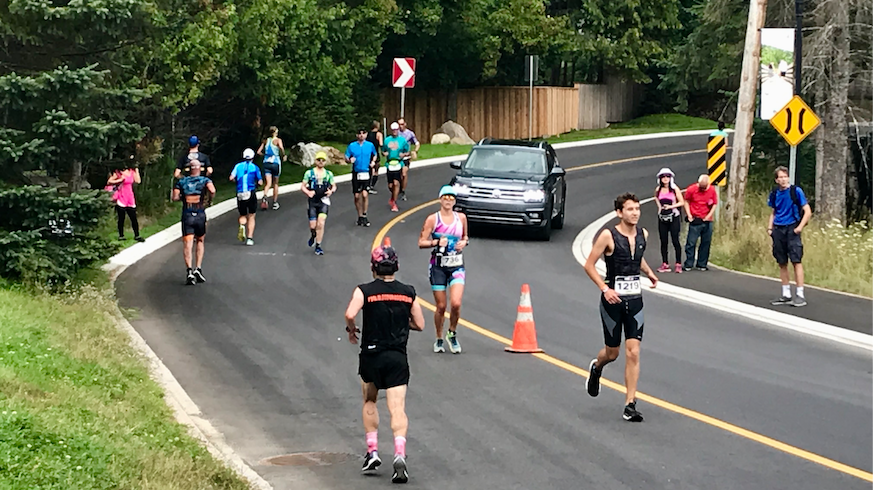 Picture above: At the begin of the second loop everything was a bit slower My legs felt heavy and another half marathon seemed a bit unrealistic at that point.
Those hills had been crossed the third time now and I was back on the green ten kilometers trail through the wood. My walking sections became longer and longer, and I started to chat with surrounding athletes who also decided to temporarily slow down their paces. I met Brian, another first-timer, as well as an elderly lady who lived in Vancouver, was born in Switzerland, and who was happy to speak some German to someone. She was still on her first loop and earned all the respect I had. I kept thanking all the volunteers, knowing that their day will be longer than the one of most of the other runners on course. Communicating really helped the time go by quickly, as well as staying in a cheerful temper. Not for everyone, though: I saw some athletes who obviously felt much worse than I did, whose stomachs not only cramped but actively revolted. Others were in an even darker space, laying on the street and being cared for by medical staff. Kilometer 29. Very soon the good mood had to come to an end, I was afraid. Reluctantly I remembered my past Marathons' painful torture during their final eight kilometers. When would that happen today? Passing the last turning point I grabbed some more coke and started running again. Kilometer 32. Only 10k to go! Suddenly some kind of newly created euphoria kicked in, basically out of nowhere – my legs all of the sudden didn't feel as heavy anymore and I started overtaking many slower runners. I passed the aid stations running and did not even have to walk most of the hills anymore. Unbelievable, my legs kept pushing further and further, my pace increased, and soon all the climbs were behind me! Only four kilometers into the village. The crowds along the roads got bigger and I started noticing the vibrant music at the finish line in the distance. I knew, I'd make it; and I knew, I'd make it in a good shape! Only two more kilometers. One last uphill through the village, not even a though of slowing down now. I passed the very last aid stations, my steps got even bigger.
The finish line
Just incredible, only one more kilometer ahead of me, the music was getting so close and loud, party and happy people all over the place. How many times did I imagine exactly that moment during the past months – just steps away from the finish line, after hours and hours of intense exertions, enjoying the last couple of hundred meters. And I did enjoy them. Running slightly downhill I passed hundreds of cheering people on both sides of the track. Hands reaching out for high-fives, voices alternately shouting my name or my bib number. I was far from winning a podium, hundreds of runners already finished before me, but it did in fact feel like being a winner. Curve to the right, I wanted to slow down a bit, trying to preserve the moment. Curve to the left. And then I there it was, an Ironman finish line, many years longed for, many months trained for. 20 meters to go. I raised my arms into the air, while hearing Mike Reilly, triathlon icon, almost correctly pronouncing my name over the speakers, followed by those magical four words:
"You – are – an – IRONMAN!"
Video above: Crossing the finish line after 12 hours and 6 minutes. All doubts are gone, all pain is forgotten.
Post-race
I did it! Awake for 16 hours, raced for 226 kilometers, climbed 2100 meters, and finished my first Ironman competition successfully after twelve minutes and six minutes. Years of training peaked magically at this very moment. The strains of all those hard training sessions and the exhaustion of the current day had been worth it. Being full of adrenaline and endorphin I received my finisher medal, a t-shirt and a base cap and was guided towards the finishers' tent. Having a seat amongst all those other finishers I did not feel any pain or discomfort, other than a general exhaustion, mixed with huge relief and bewilderment. I remembered the last valuable tips my coach provided, when he said that after crossing that finish line I should start eating as soon as possible. Although my stomach stopped cramping, it did not at feel like it was expecting food anytime soon. Nonetheless, some pasta made it down my throat, along with some hot tea. Looking back at my Marathon finishes in Frankfurt, Berlin and Ottawa, I'd felt much worse back then than now, although not even having been that much faster. Was that because of a more intense preparation this time? Or a better nutrition strategy? Or maybe because of a much higher dose of adrenaline? Whatever it was, it did not matter at the moment – I was just happy to feel the way I did, which allowed me to fully enjoy the immediate post-race time and absorbing the atmosphere; an interesting mixture of euphoria and exhaustion of hundreds of newly crowned Ironmen and -women.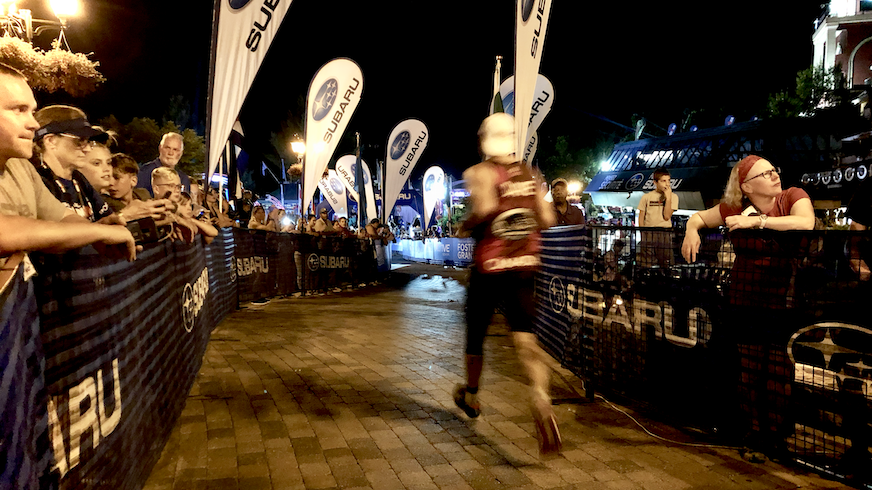 Picture above: The later and darker, the better the vibes. Those triathletes needing 14-17 hours were rewarded by running through an ecstatic crowd and by being personally high-fived by Mike Reilly at the finish line.
After having some food and getting back my bike as well as all those transition bags, we took all the equipment back to the car and I changed some clothes; only to return back to that pulsating party of triathletes and to cheer the remaining runners finishing their personal races. The later it got, the better the vibe. Each and every athlete was was celebrated by a growing crowd of spectators, as if they would be winning the run. Mike Reilly was verbally heating up the finish fest and did not seem to get tired calling everyone by their names and an Ironman.
It was hard to believe, but already 16 hours had passed after the race started early in the morning, and there were still runners out on the course. What an endurance, what a will-power. Some of them had very obvious trouble crossing that finish line with all what's left. The last athlete arrived 40 seconds to midnight and race day was officially ended with a countdown and fireworks.
Video above: A short compilation of Christina's clips, following me around the course from start to finish.
---
Monday: The day after
No phone waking me up today, but still I got up early. Falling asleep last night was harder than I thought, that's how psyched I was. A thousand things went through my mind, as if I was on drugs, even after almost 24 hours without sleep and half of it under physical exertion hardly I could hardly close my eyes. Twelve hours after I crossed the finish line, however, the adrenaline was probably gone – the inside band of my left knee began to hurt, and suddenly I couldn't walk as easily anymore as I did yesterday evening. Interestingly, I still didn't have any muscular problems, but the ligaments caused pain. Of course, this didn't come as a surprise to me, and as long as only the left side was affected, I would still get our car back home safely.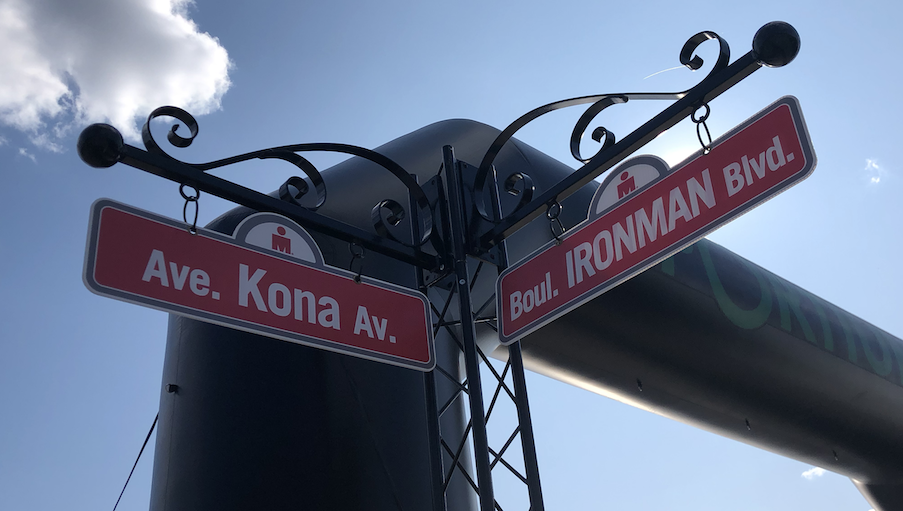 Picture above: Last day in Ironman Village. Qualification for world championships was way out of reach for me, even I had been born in the sixties.
After the last breakfast in our hotel we visited Ironman Village one last time. The award ceremony was scheduled for today, followed by a public allocation of 40 qualifying slots to the Ironman World Championships in Kailua-Kona auf Hawaii in October this year. Within each age group between one and five athletes were able to qualify, depending on the total number of athletes in the respective category. If your name is called, you have to decide on the spot if you want to go to Hawaii, and of course you have to pay right away (about 1000 Euro participation fee). If you do not accept your slot, the next best competitor automatically gets his chance. This continues until all slots are taken. With my final time of just over 12 hours, I was in 92nd place within my age group and therefor far away from having any kind of chance to qualify for anything. Impressively, this time would not even have been fast enough for the a 50+ athlete to qualify for the World Championships. But anyway, watching the spectacle was great. In some age groups, competitors who finished sixth got a slot for Kona, even though only two qualifying places were available. Seeing the tremendous excitement of those folks was just amazing.
The last official highlight of the weekend was finally over after about two hours. We left Mont-Tremblant after five incredibly eventful and unforgettable days.

Picture above: One of 2200 finishers of Ironman Mont-Tremblant 2019. And one of about 550 first-timers.
The past weekend certainly was one of the most eventful ones ever for me. One question remains: What's next? Undisputedly, I enjoy triathlon a lot, but was I made for the long distance? At least when it comes to running, I had some doubts because of my prior Marathon experiences. After the last five days, however, these doubts have been eliminated – and I'll leave that right there… The training for competitions of this kind is extremely time-consuming. Training 13 to 18 hours week after week is a big challenge besides work and family life. And without the continuous mental and logistical support of my beloved wife I would certainly not have reached the finish line on Sunday; not only because of Christina's impressive and ever helpful commitment on Sunday itself: helping with packing and preparing food, calming me down, carrying around bags full of material and organizing all the things I forget, cheering my on 13 times during the race, taking photos and videos and so much more.
I will definitely stay in that sport, and I will definitely continue to compete in different kinds of competitions. I would very much like to tackle a long distance again next year, but that still requires some discussion.
Until then here are some more or less interesting facts and figures about my race and the way to get there.
Individual times of each discipline:
Swimming 3.8km: 1h14min | Transition 1: 14min | Cycling 180km: 6h7min | Transition 2: 11min | Running 42.2km: 4h20min | Total time for 226km: 12h6min
Nutrition consumption on race day:
Fluids: 11.2 liters | Burned calories: 7500 | Consumed calories: 5600 | Carbs: 1100g (78% of all calories)
Training load during specific race preparation:
Specific training duration: 33 weeks | Hours per week: 12 | Cycling sessions above 100km: 5 |Longest ride: 137km | Running sessions above 30km: 5| Total training kilometers: 6521 | Total training time: 400h (46% of which outdoors)
Nutrion consumption during specific race preparation:
Total fluid consumption: 1133 liters | Average daily calorie requirement: 3200 | Total alcohol consumption:2 small beers


Picture above: Specific training load over the past 33 weeks until Ironman. Main focus was on cycling. Last day of the last week the competition took place.
After all the training, I will take it easy for the coming days. Light and short sessions for regeneration. Most likely this year I will participate in one or another running competition, maybe run a few trails again. All that's left now is to thank you very much for your interest and patience in reading. Being a new long-distance triathlete, you can't do anything short anymore…
Cheers and see you around,
Ludwig.
Ironman.
---
More to read:
Race report Early Bird Triathlon, spring 2019
Race report of Ironman 70.3 Kraichgau, summer 2018
Report about triathlon camp Istria, Croatia, spring 2018
How much time do I spend for triathlon?
---