When I was a kid, I hated endurance sports. Never enjoyed running in school and didn't even properly learn to swim. Eventually I picked up biking when at around 14 years of age; not in competitive mode, but rather to explore the world. Over the years, many vacation weeks were spent on cycling tours – everything between one weekend and multiple weeks on the road. Eventually a dream came true when I crossed the United States from coast to coast twice (Orlando/FL – San Diego, CA – San Francisco, CA – New York City, NY). That was almost 15 years ago and I stopped doing any kind of physical sport for a long, long time. I started studying Psychology, explored the joy and excitement of becoming a skydiver, and phased through a longer period of speedsolving Rubik's cubes at competitions.
Around my early thirties I then realized that somehow, I lost track of being physically active; at that age, my body started gradually becoming heavier and heavier. I needed to become more active again; main motivation: lose weight.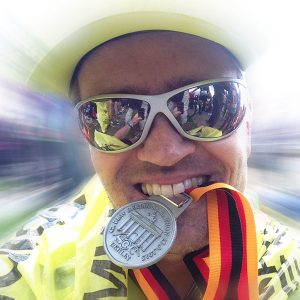 My very first run after maybe two decades I'll never forget… I took some old training shoes and tried to keep running for 5k. It felt terrible… at a pace of close to 7 minutes per kilometer I could hardly breathe, and after the run my muscles hurt for days. But for some reason I kept doing it. Slowly, it became a routine and slowly, running started to be fun. Distances increased, speed as well. After a while I was able to run 10k nonstop, and after another while, I managed to run 10k under one hour. By that time I already lost 15kg body weight and were doing four running sessions per week. To keep motivated, registering for a 10k race was the logical next step. Followed by a half marathon. Eventually followed by my first full marathon race.
At some point, running only started to get a bit boring. I didn't seem to get faster, and at the same time I didn't want to further increase my running efforts. That's when I started biking again. A colleague of mine got me into cycling to work – a commuting distance of 35km was just perfect for a good morning and evening workout. I realized, that cycling still felt quite natural to me, remembering the good old times.
It must have been sometime around October a couple years back when I accidentally zapped into a live TV coverage of Ironman Hawaii World Championships. I was stoked. How is it even possible to cover those incredible distances, exercising 12 hours or more in those conditions? Those athletes were able to accomplish goals I would never believe were possible. On the other side, all of them looked like normal people – they might have had a long journey behind them, but at some point, they must have started, too.
Triathlon instantly infected me. No doubts – I just had to become an Ironman one day, too. One huge question mark, though: the swim part. I have never done any substantial swim training in my life. The longest distance ever covered at once maybe was 300m in a pool, breast stroke. The longest distance I was able to cover in front crawl was, seriously, 10 meters.
Nonetheless, I decided to sign up for a super-sprint triathlon distance, anyway. An event called 10Freunde Triathlon seemed to be perfect – a team of ten friends together finish an Ironman distance. Everyone would swim 380m, cycle 18km and run 4,2km. After having registered, I also booked a swim technique course. During 10 sessions in a small group, we learned (from scratch) how to front crawl. Slowly but gradually I felt more and more comfortable in the water. By the time the competition started I was able to do the full 400m front crawling and felt extremely proud. That whole event was just perfect to try out triathlon – and I needed more.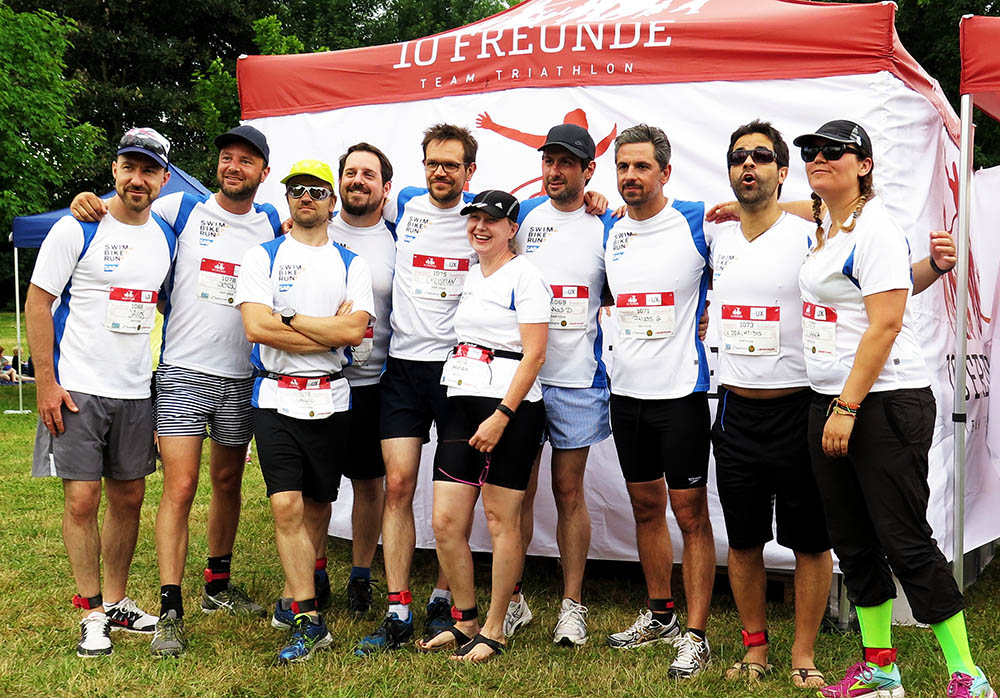 Today, I am almost half way there. I registered for my first ever half Ironman distance: 1,9km swim, 90km cycling, 21,1km running. That still sounds threatening to me, but I feel confident. On June 3, I will participate in Ironman 70.3 Kraichgau.
---
Read next: How I completed Ironman 70.3 Kraichgau