It's been already some years that I've been more or less dealing with triathlon related topics – but other than a couple of sprint events and my continuous (and plan-less) training I haven't really gotten into it very thoroughly; until I decided in December last year to register for my first Half-Ironman distance. Almost simultaneously I was looking for a good triathlon camp to participate in – with the following criteria to be covered:
Should be reachable by car, so that I could transport my own bike to the camp
Early enough during the season to be able to build a good endurance base long before the competition which would take place in the beginning of June already
Therefore, the camp should be offered in a region which allows to do road bike riding outside already during March
Affordable
Given those limiting conditions, the classics like Mallorca or the Canary Islands quickly had to be excluded, as well as more exotic choices like Thailand. After some short web research I found Istriabike.com – and registered after exchanging a couple of emails for a two weeks training camp in Istria, Croatia.
Unknown Terrain
The camp itself was going to take place during the second half of March. Usually a safe time period in regard to the weather, at least statistically. I planned to cover the 1000 kilometres from Mannheim to Istria in one leg and got into my car at 3am – getting surprised by a sudden winter wonderland. During the past couple of hours, it had snowed enough to cover the roads in white; which did not change for the next 600km. I've never had that much snow for such a long distance before. Only after about 150km before my final destination it got better, although the temperatures didn'r really go up. Even after arriving the Croatia's coast after a 10 hours drive, temperatures were below 10°C. But oh well, I'd packed enough warm training clothes. The fun was about to start!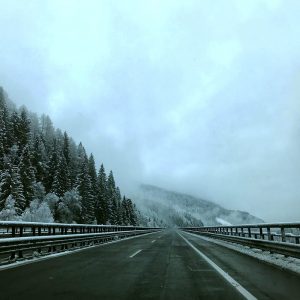 The first day
The organizers had planned an easy bike tour for all early-birds already during the day of arrival. We all met in front of our hotel in the afternoon and after a very short introduction round and putting everyone into his or her group (slow/medium/fast) we hit the road; at 12°C and cloudy skies. Nonetheless, this tour was already a lot of fun – during my prior training I had basically never ridden my bike with other cyclists and was quite surprised how quick time and distance passes by when you're cycling in company.
Bad weather, good mood
The weather conditions in south-eastern Europe during the first week didn't' quite appeal Mediterranean, but that couldn't turn our mood down. A training plan well thought-through kept all (roughly) 25 participants of all fitness levels busy. Every day the plan asked for two to three, sometimes four sessions. Most of the time we spent the mornings before breakfast in the hotel pool (indoor 25m, seawater, heated) to cover very diversified swimming exercises – technique, speed, breathing, endurance; everything was covered. For me that was the first time ever, that I participated in any kind of structured swim training and the pool hours went by fast.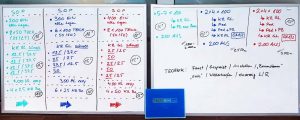 The biggest part of our daily training was dedicated to cycling; which was just as diverse; not only because of the beautiful landscape, quiet side roads and hilly geography. Our tours of about 3 to 5 hours each also emphasized different contents – long inclines, intervals, or FTP tests. Even pure technique lessons were part of the game. Some nasty rain showers and cold weather made it a bit difficult during the first days, but eventually, the weather got better.
The running part was mostly incorporated as brick sessions right after biking, or, on some days, as individual sets within the whole group. Again, we focused on technique, intervals and longer endurance sessions. The running routes along the coast or through beautiful valley proved to be very appealing as well.
Besides those core triathlon training sessions, every day was complemented with reasonable and necessary additional training such as athletics, Yoga, Pilates, Thera-Band, etc. Last but not least, the whole package included regular evening lectures on topics like training or competition planning.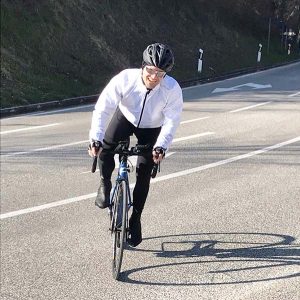 Don't think – eat!
Our daily main meals took place in the mornings and evenings – during the day I mostly limited my intake to energy food, water, and isotonic drinks. With an energy demand of 4000-5000 calories per day it's not easy to go to sleep without a deficit. Accordingly, the dinner had to be rich! Every day we refueled ourselves with pizza, fries, meat, pasta, cake, coke and, once in a while, some vegetables. The hotel buffet provided an incredible variety of choices and carbohydrates in many forms. Eating without remorse and without being looked at by your neighbor. Something to get used to – although you shouldn't, since switching to normal eating habits after going back to your reduced everyday training efforts can and will be difficult.
Those two weeks passed by quickly – after 55,000 burned calories and almost 900 kilometres of training I had to back to normal. After all, the camp itself and the time invested turned out to pay off not only financially: my main competition later in June went better than expected!
Key take-aways
Best part of a training camp: no brain work. You're being told what to train when, how long and in which intensity. Between the sessions all you do is rest and eat. Good life!
Speaking of food: It's just unbelievable, how much a triathlete eats for dinner; those calorie deficits just need to be stocked up (the hotel most probably did not make any profit on us). Therefor: When planning a training camp, it is always worth considering a hotel with good evening buffet (which should be included) – I would not have been able to cook my own food after 5-7 hours of training.
Many of the other athletes already were engaged with their own coaches; that sounded reasonable, since a coach could place your training camp in context with your overall training plan. I will consider.
I never thought it was possible to accommodate athletes of extremely diverse fitness levels into one training camp (we had absolute beginners as well as multi-time Ironman finishers), but it worked!
Nutrition: Only after the camp I realized how important it is to consequently fuel-up your energy storage during exercising; especially when planning a run after your cycling. I directly felt the difference when I did two identical training days with different nutrition strategies… definitely one of the biggest take-aways of those two weeks.
Apart from that: Participating in a triathlon camp, especially with Istriabike.com, can clearly be recommended.
---
Read next: How I accomplished my Ironman 70.3 competition
Read next: How did I decide to become a triathlete
More info: Istriabike.com