"At the Relentless Ark Trail Races, there is no time to relax. The hills generally aren't steep enough to warrant you walking them, although they're close. And if you're not running up or down, then you're twisting and turning and wrapping your body around the trees on some super tight and technical singletrack. Racing at The Ark is RELENTLESS. There is never a place to coast. There are never any physical or mental breaks."
Big promises
At his website, Mike 'The Mad Trapper' Caldwell promises a challenging, technical, and mad course to run. So after almost two years without racing, but tons of training, this all sounded like a great idea; and after one of our fellow local running group members suggested to try out that race, it was not only me who got hooked; half of our crew signed up, (luckily) not knowing what exactly they'd have to expect.
So, what did I expect?
A chill fall run across a local forest, enjoying the fall colors, hopefully a sunny day, and 21 moderately challenging kilometers. I've been doing a half marathon distance in training about once per week, so this should be a walk in the park. My confidence was high, but little did I know.
100% chance of rain
The confidence went down a bit, once race day (October 16, 2021) came closer, and the weather forecast got worse. Rain was on its way, plenty of it! I don't have much experience trail running, and I have zero experience trail running in wet conditions. All I knew was how terrible it can feel when your feet get all wet – but hey, what do I have waterproof trail shoes for. That should work, I thought. Plus, I tend towards the extremes anyway. And after having done races at -25ºC as well as runs above 40ºC, a heavy-rain half marathon was just what I needed.
Instructions
Along with two running group fellas we started our drive up to Quebec at 6:30am in the morning. It was very mild outside, 17 degrees, and no rain yet. The one-hour ride was dark, and foggy, but even in these conditions the landscape looked beautiful. The terrain clearly became more and more hilly the longer we drove, but thankfully the clouds didn't release any water yet.
Around 7:30am we arrived at The Ark – home of the Mad Trapper Mike, who has been creating all sorts of crazy running events around his remote farm for years. Ever heard of the Pancake Prediction Run? Well, all you do is run a certain distance without your watch, and try to predict your final time as precisely as possible; the winner is not the fastest, but the one closest to their predicted finishing time. And there are also pancakes.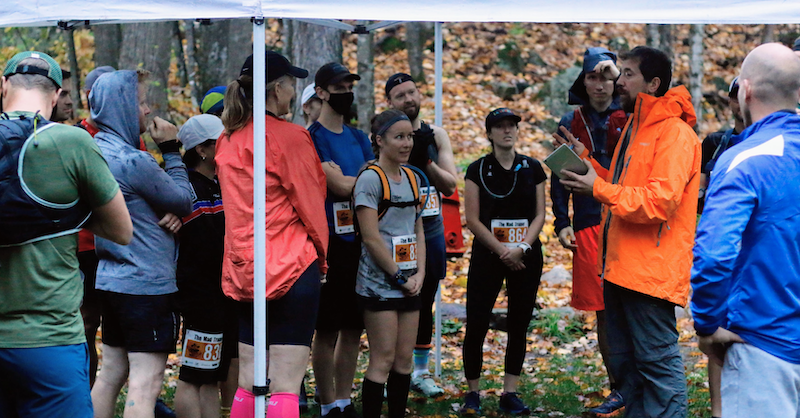 Today's race, the Relentless Ark, is a local legend. I've heard plenty of things and rumours around it, and that the course conditions would be unpredictable. Getting a bit nervous, we signed-in, received our bibs, and gathered outside with around 30 other runners who were going for the half marathon distance. Mike, who turned out to be an outdoor-loving, fun, and slightly sarcastic race organizer, provided the basic instructions: Leave in this direction, then follow the purple little flags, do this twice, and tell us your bib number when you cross the finish line after your second loop. That was about it. (The last race briefing I remember was at Ironman Mont-Tremblant, and it took more than one hour) Oh, and he mentioned, that just the day before he prepared the trail, literally blowing the leaves off it. And that was not even a joke.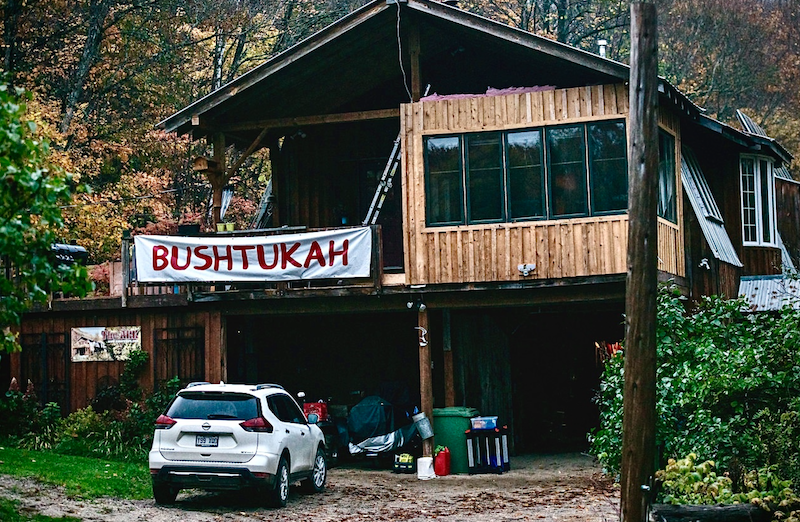 Loop 1
The rain started, and so did we – instead of a large crowd cheering or a pistol firing, all you heard for the start were 30 Garmin devices beeping, indicating that this is now the real thing. Let's go!
The first 100 meters were flat. While the following 21,000 wouldn't be. Shortly after the start we turned right, into the woods, immediately going uphill. The track was narrow, stony, wet, and windy. My heart rate went up pretty quickly – I did occasionally do hill training, but only on asphalt and only on moderate climbs. This was more like running up uneven, slippery staircases, trying to avoid muddy puddles, rocks, and roots. But so much fun! For the first half kilometer, the group stayed pretty much together, not having much space to pass each other, anyways. Definitely helpful to not overpace right from the start; which, on this course, would be a bad idea.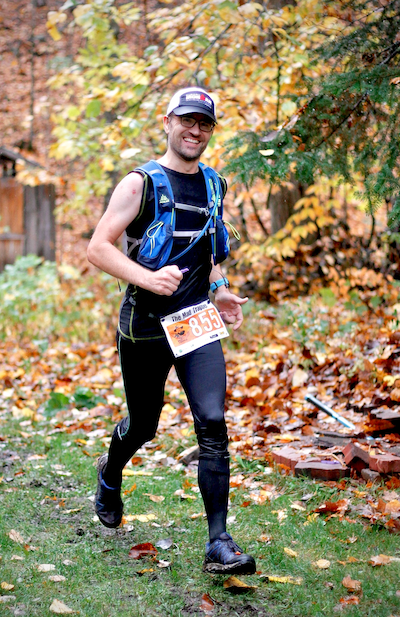 The course was definitely not boring. Trail running is cognitively quite demanding, since you have to basically watch every step you do, and predict your next one already. Much unlike road running, where you get into some kind of flow pretty easily. In this very technical terrain you constantly had to pay attention what your feet and legs were doing, while simultaneously watching out for trees and bushes on both sides of the track.
I don't know if it was still raining, or just water dropping off the leaves, but the fluids from above weren't as concerning as the ones soaking the ground. Don't get water in your shoes, don't get water in your shoes! It was complicated, but I managed for quite a while to jump between the puddles and mud holes, naively hoping that the track conditions wouldn't get worse. (I was also naively hoping that I'd be able to finish under 2 hours, or that the rain would stop)
After about 2 kilometers constant up and down on single tracks, we were still running in a group of eight. A couple of folks behind me, and some in front. The pace was comfortable, but I didn't sign up for comfortable. At a bit of a wider part of the path the runner right in front of me took the chance to pass the others, and I followed her right away. The pace picked up and it suddenly felt like a race!
Between kilometers 3 and 4 the course led us over some grass fields, soaked in water of course, but the only relatively even par of the run. In this part you weren't only allowed to relax your legs and feet a bit, but also your eyes (open views) and your brain (no obstacles to avoid). I looked at my watch and was sure that my GPS sensor must be wrong, showing only 3.5 kilometers after 25 minutes into the race; it certainly felt like 5 at least! Turned out that the GPS was right.
Wet feet
I can't remember anymore at which point the puddles and mud won the fight against my waterproof shoes, but I do remember that it felt terrible… one wrong step, water above my ankles, and both feet immediately wet. It's only a matter of time, I thought, until blisters will start forming, and the suffering begins. Because one thing I know for sure about these shoes: once the water is in, it'll stay in. Waterproof is waterproof.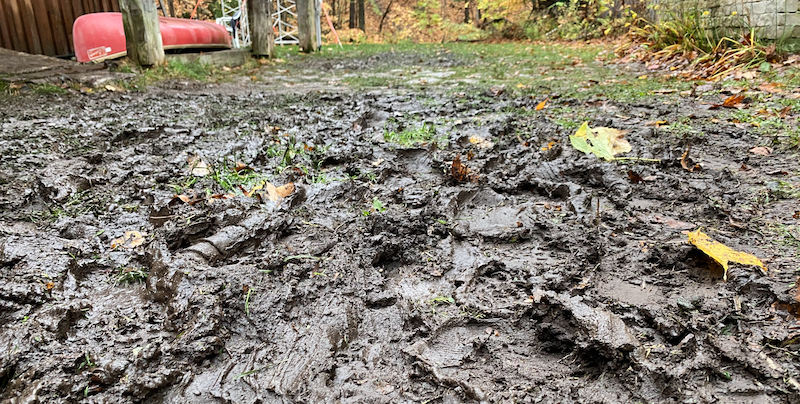 At some point, very heavy rain started to kick in. Not that I wasn't completely wet already – but this was the final confirmation of today's weather telling us: "It is October in Quebec, what did you think would happen? Be happy that it's not snow." The puddles got bigger, the mud got more slippery. And the constant steep up and down just wouldn't stop, Yet, I was still running the biggest parts of it, trying to keep up with that crazy woman 50 meters in front of me.
Loop 2
Finishing the first loop felt great to some extent ("Yes, halfway done!"), and partly devastating ("No, another one!"). Knowing what was coming and how hard and technically demanding that course was didn't make it easier. The mood was still great, though, I wasn't in pain, no blisters, and I paid for this experience after all.
The first half took me 71 minutes. Much slower of course than a 10k road run, and I knew that the second half would take considerably longer than that. Not only because of exhaustion, but also because the trail conditions were getting worse by the minute. I already gave up avoiding puddles, and almost enjoyed running through the mud. At points you'd end up under water up to your knees, and more than once it felt like losing a show and that brown, sticky, wet dirt. The muddier it got, the less I cared.
There are two downsides, though: One, shoes soaked in water and covered in mud are very, very heavy. And with every step you do, you're carrying an additional 400 grams of weight around, which adds up easily. Two, your footing just gets so tricky and you're constantly slipping in all directions. During the first loop I successfully managed to not fall, but the second one brought me down into the dirt at least three times. Going uphill required more and more arm support, pulling oneself up on trees to not slide back down. Some of those had an incline of more than 20%. Going downhill was a mix of guesswork and hope that wherever your feet will land they'd find some grip.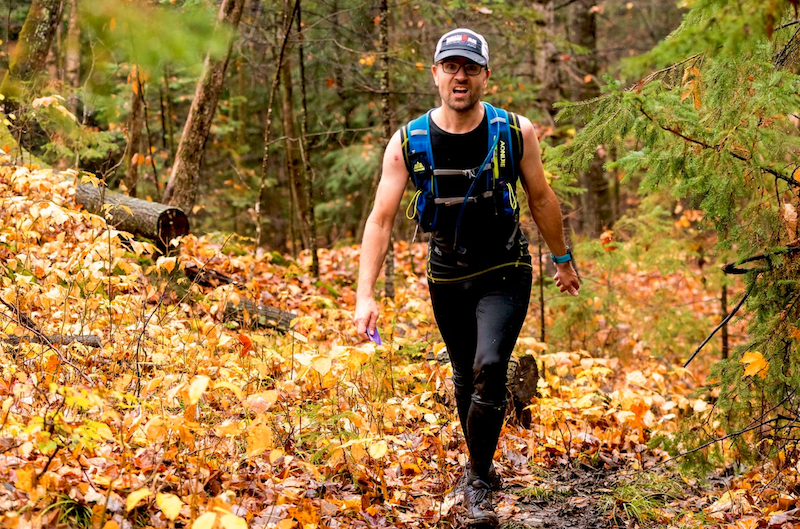 At around kilometer 13 I couldn't keep up with my pacemaker anymore. She was still going strong, while I had a very hard time pushing myself through the terrain. Still no pain, but clearly my energy levels were dropping. I managed to continuously sip on my 1200ml water-calorie-mix, but I did not prepare enough for more than 2 hours. It's always a trade-off between weight on your back and taking too little.
The last 8km I was all by myself, not seeing a runner anywhere around me. I had to pay extra attention to the colored flags, and at times really wasn't sure whether I was on the right track anymore; or on any track at all, for that matter. My feet started hurting from stepping on uneven grounds, and rocks, and roots over the past 120 minutes, but eventually I ended up on the final downhill into the finishing area – instantly, all the torture was forgotten and the post-race endorphins kicked in right away.
At the finish line
The finish line atmosphere was much different from what I was used to as a road runner: no big crowd, no loud music and a pumping atmosphere, no medals, not dozens of other runners finishing around you. Instead, it was much better: fellow nature-lovers welcoming you, burgers getting ready on the barbeque, and Mike sitting there, obviously enjoying seeing runners arriving exhausted but happy.
After all of our local running group's members made it back (except one crazy pal who did the 50k run and had yet a couple hours to go), we took a group picture and enjoyed the food in the rain – while sharing all those little stories and experiences on the track. And I'm sure that everyone secretly was already thinking about the next one!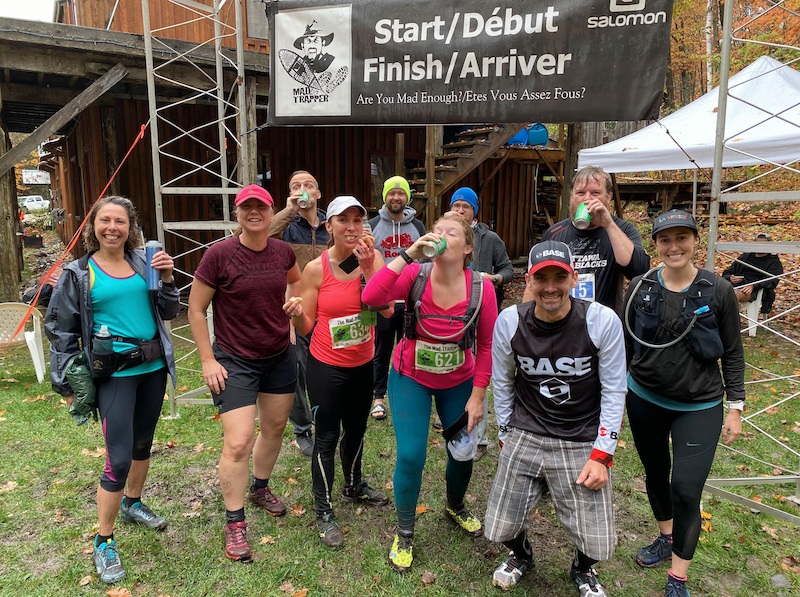 Fourth place, but…
Looking at the overall results, I finished in fourth place (3rd male), out of 29 starters. Looking at my GPX file, that wouldn't be a fair, though – I realized that I missed to run a 1km loop during my second round! The map clearly shows where this happened, and I do remember; I was still following the runner right in front of me, who also missed a turn and just went straight. Exhausted as I already was, I just followed and did not check the markings well enough. Technically, that would make my result a DNF (did not finish), and I reported my mistake; but nonetheless I am happy with the outcome, and comparing my time with the other runners I would still have come in in fourth place if I added 7.5 minutes to my finish time (the average it took me to run one kilometer).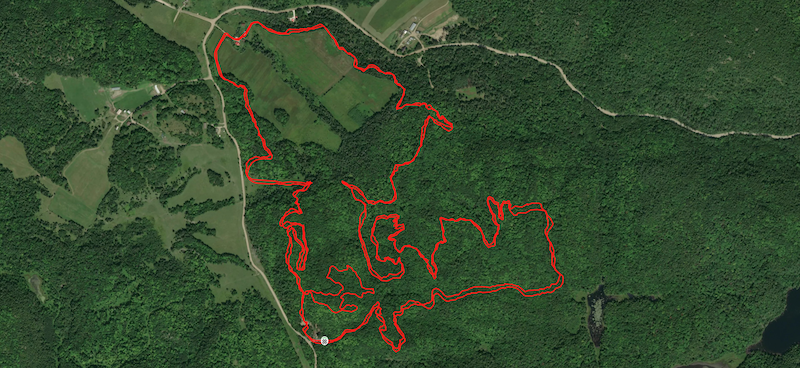 Aftermath
Trail running is super fun
The Mad Trapper Relentless Race series is even more fun (maybe not an entry level event…)
My feet survived without blisters!
My thighs hurt a lot even two days after the race
I am glad I did not sign up for the 50k this time
Stats
Total distance: 20km
Total time: 2h21m (compared to 1h34m on the road!)
Total elevation: 670m
Calories burned: 1700
Calories consumed: 500
Fluids consumed: 1200ml
Temperature: 16ºC
Deepest mud puddle: 40cm
According to Mike the Mad Trapper this year's event was the muddiest and rainiest they ever had. And I am so glad that I was part of it. Can't wait to do it again!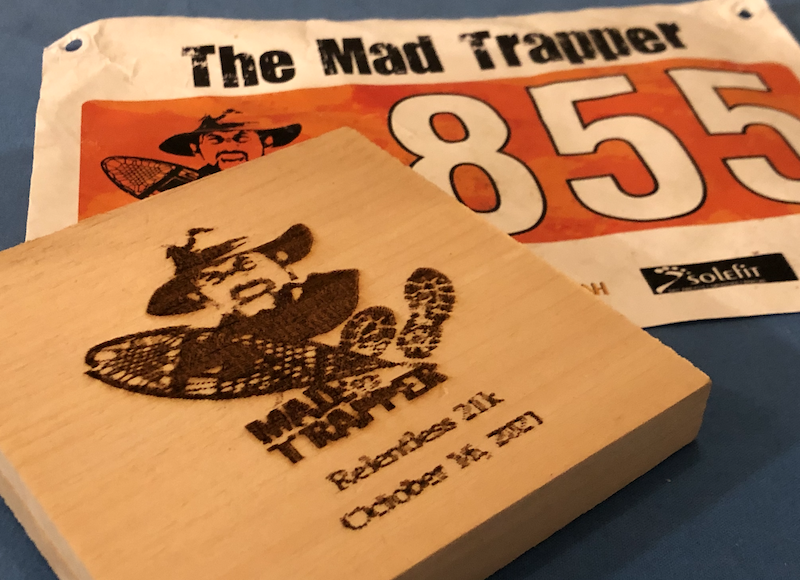 More info
All the pictures (by Richard McDonald)
My Strava profile
The next Mad Trapper Challenge 😉