Canada can be a weird country at times. After I experienced the first snow at the end of October last year already, which then kept the country under a white cover for six months straight, (including 20cm of fresh snow in the middle of March), now, at the beginning of August, it's hard to remember any of that anymore. It took a long time before summer actually started – only at the end of May it got really warm – but after it finally did, it has yet never even paused; constant temperatures around 25 degrees or more, lots of sun. Spring, as we knew it from Germany, does not seem to exist here in Ontario.
During summer, Ottawa shows its best side. Although the cold season had been celebrated already rather than demonized (ice skating on the canal, Winterlude Festival, etc.), now in summer it started to get really lively: every weekend there are festivals, parades, celebrations, concerts. Most of them free of admission. And if you happen to still don't know what to do, there's always an escape to one of many beaches along Ottawa's rivers.
Tulips, not snow
While we celebrated St. Patrick's Day Parade in mid-March still in heavy snow, only two months later summer began with Ottawa's own Tulip Festival – just after temperatures rose, tulips were suddenly everywhere to be seen; the Tulip Festival is allegedly the largest of its kind in the world, and every year over one million tulips are being presented, and hundreds of thousands of visitors enjoy the warm sun. The festival has its roots in World War II, when the Dutch royal family sent 100,000 tulip buds to Canada to thank the country for giving shelter to Queen-to-be Juliana.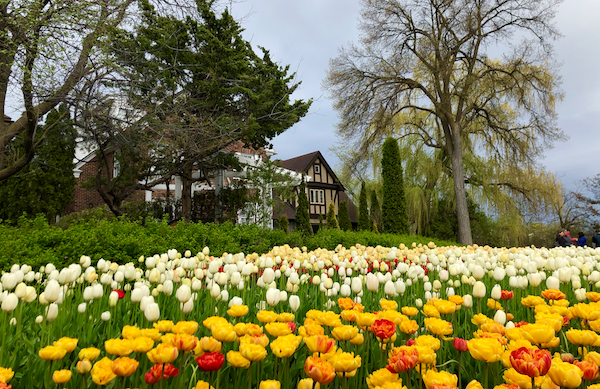 North-American versions of flea markets
Only one week later (and only one day before the big Ottawa Race Weekend, which included my first Marathon run in Canada), the biggest garage sale within the area took place in the Glebe district. Similar to a flea market in Germany, but distributed over an entire community, residents sold their stuff and thousands of people created a festival atmosphere.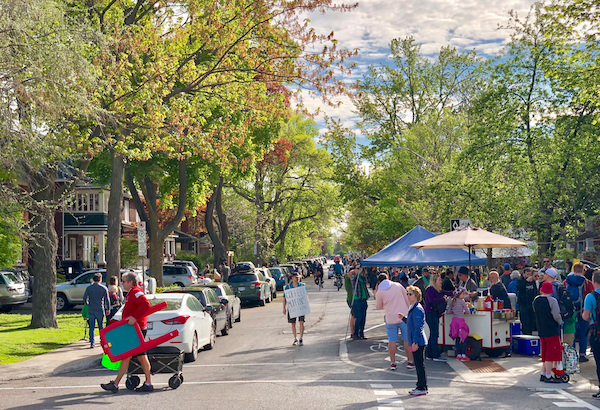 Event-loaded weekends
Weekends full of activities followed – sometimes it was hard for us to even decide which party or parade to attend; there were days at which three or even four big events took place at the same time. Christina took part as a dancer in the Caribbean Carnival, a Caribbean parade across the city. We attended numerous concerts at the Ottawa Jazz Festival, spent a day with thousands of spectators at the Blues Fest(including an awesome performance of "The Killers"), danced Salsa at Latin Sparks Festival, and enjoyed the light installations at the Glowfair Festival. So good that Christina doesn't have to work – so she can utilize part of her time for exhaustive weekend planning.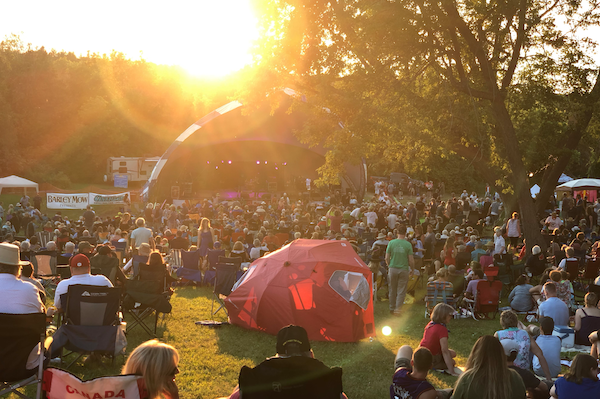 At times we also went to rather bizarre festivities; for one whole week, you could eat award-winning ribs and other parts of dead pigs in Sparks Street – Ottawa Ribfest challenged the capital's residents (and tons of tourists, of course) to identify the taste of meat hidden in far too much BBQ sauce. Probably 30 different (and yet the same) huge food trucks were barbecuing like crazy, and displaying their countless trophies. Truly bizarre.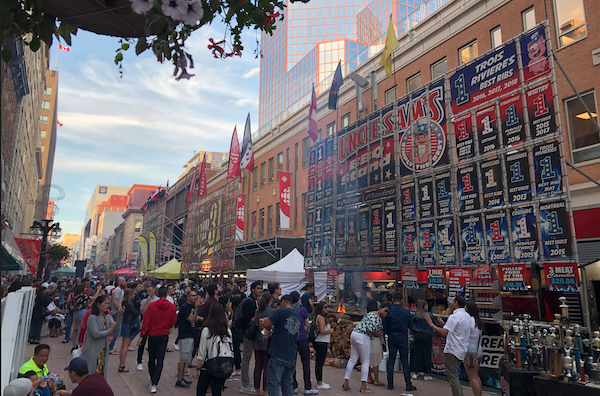 First Nations meet patriotism
This year's Dragon Boat Festival (the largest of its kind in North America, with over 200 participating teams!) coincided with Summer Solstice Indigenous Festival, which is celebrated in honour of Canada's indigenous people. Extremely fascinating! They performed traditional dances to traditional music throughout the day at the big Pow Wow. Especially the fact that people my age and younger passionately bring music of their ancestors into the present was quite impressive.
Video: Live performance of traditional music during Summer Solstice Festival
Somewhat contrary to celebrating Canada's First Nations and indigenous groups, is the Canadians' patriotism, which also is very present. Not only does the national anthem play on all kinds of occasions, but the military and the mounted military police are also proudly presented. Over and over, there are big parades, ceremonial shift changes, flag ceremonies. Everything eventually culminates in the country's national holiday, Canada Day on the first of July, during which the entire capital city celebrates itself covered in red and white. And while we were massively disappointed by the fireworks on New Year's Eve, the spectacle on Canada Day easily made up for it – I've never seen such big and spectacular fireworks before!
What's outside of Ottawa?
Summer in the city has so much to offer and can be explored so easily by foot or bike, that we actually haven't made it outside of its borders too often – even though we are now more or less proud owners of a car (let's see how long… even for a Volkswagen, 260,000km are a lot). For my cycling training I regularly go to Gatineau Park, north of Ottawa. A cyclist's paradise; well-maintained streets and completely car-free on Sunday mornings. You quickly get used to the bear warnings all over the place. I just haven't seen a single bear, yet.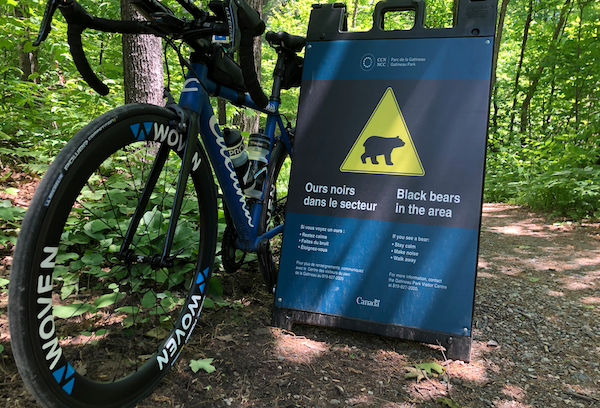 Other than that, animal life here is quite interesting; or did you know that there's plenty of turtles living in Ottawa's rivers? Apparently, they spend months in the water under thick ice, and come back to daylight in spring – some of them can be found near the rivers. The countless squirrels and chipmunks are even more active than in winter (and if you're not careful, they sit on the table in the kitchen and steal your peanuts!), raccoons climb our balcony, and every morning a cardinal bird is waking us up.
So, summer is in full swing and hopefully is going to last for a while longer. Huge contrast to the white months, and thus even more enjoyable. Yet, there are so many things left to do: hiking in Gatineau Park; camping; kayaking. We have already planned a lot for the coming months: soon we'll go to the mountains of Mont-Tremblant, where I will do my first long distance triathlon. In fall we travel to New York City for a few days. And then in December we're off to New Zealand, visiting friends, followed by a trip to Los Angeles at the U.S. west coast for New Year's. During all of our time in Mannheim we haven't done as many things as we have since we arrived in Canada…
For more summer impressions, have a look at the gallery: Summer in Ottawa.
Video: Some of the animals we encounter in Ottawa more or less regularly