Recently, in a sports documentary I watched they mentioned that triathlon is the most training intensive sport ever. Somehow that's always been obvious to me, but in the meantime, during the first phase of the concrete preparation for my first long distance race, I slowly become really aware of it. Although I've been training a lot for a couple of years now already, but the training volume is starting to demand more and more discipline – and the training alone isn't even everything.
So here's an overview of the weekly effort I'm currently investing in my Ironman preparation.
Core discipline training, athletics
Most of my time I spend training the three core sports – swimming, running, cycling. In addition, there are units to build up the core muscles as well as extensive stretching. I train six days a week, once or twice per day, which currently sums up at around 12 weekly hours. The first ten weeks (January/February/March) of structured Ironman training looked like this: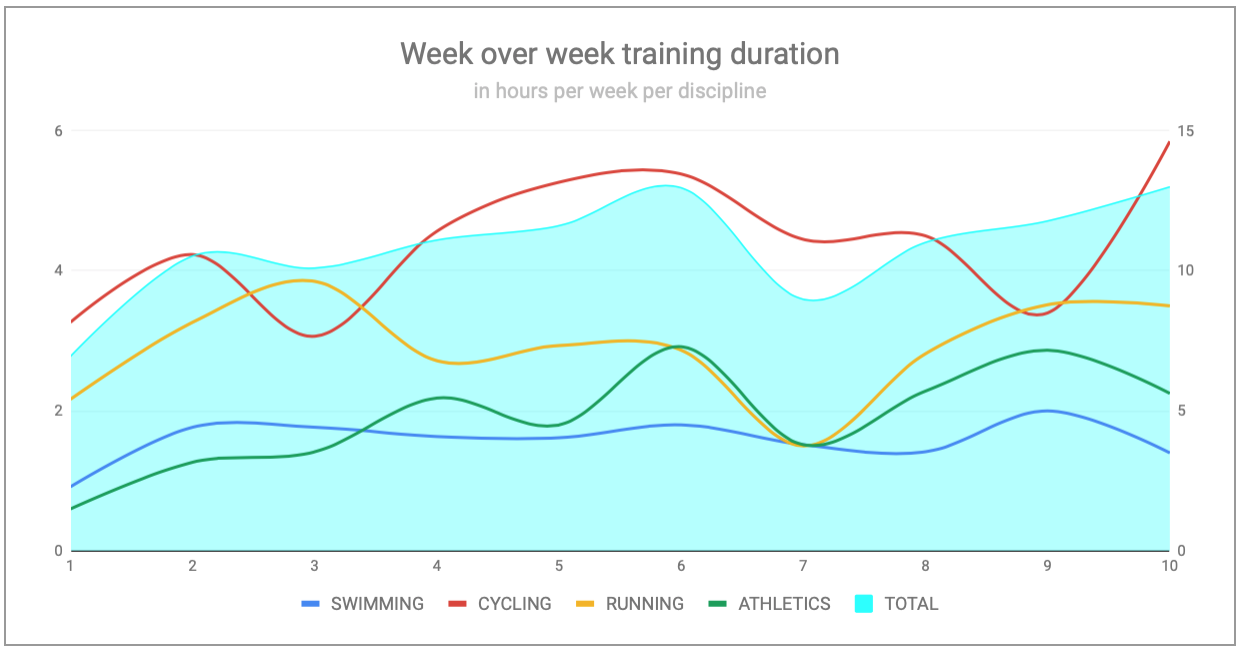 Immediate preparation and post-processing
Each training session involves immediate preparation and follow-ups: Picking and packing equipment and clothing, walking to the gym, changing. Taking a post-session shower, walk back, hang or wash clothes. That's a good 20 minutes for every hour of training on top, so another 3.5 hours per week.
Collecting and processing data
Measuring my training progress is part of the game as well. Heartbeat, power, speed, distance, running and cycling cadence rate, exhaustion, training load – everything is somehow recorded and measured. I use multiple apps (Strava, Runalyze, Excel, Google Sheets, Suunto Movescount, Zwift, Trainingpeaks) to record values and track their development. Playing with the numbers influences my coach's training planning on the one hand, on the other hand it gives me fun and motivation to compare my daily, weekly and annual performances. Weekly time required for this: about 1.5 hours.
Technical setup
Being anything but a mechanic, this part is the most unpleasant for me: repairing and maintaining the bike, solving minor technical problems with the setup, contacting support teams in case one of the thousand Bluetooth devices wouldn't pair properly. Due to the seasonal indoor training, mechanical issues are currently not so much of a problem, but as soon as it's time for road cycling and my bike needs to be cleaned, serviced and repaired again on a regular basis, this percentage will increase. On a yearly basis I estimate a weekly effort of about 1 hour on average.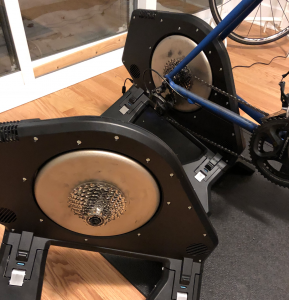 Information and communication
Much time I spend informing myself about all the different training and competition specific topics. I read about other triathletes' experiences, look at competition reports, listen to training podcasts, dive into triathlon and running books, try to memorize certain swimming techniques by watching videos, ask questions in multiple Facebook groups. I communicate with my coach about training contents, exchange expertise with other triathletes in the digital world. I check the web for new technical gadgets such as watt meters, sports watches, bike computers and AR sunglasses, search the next possible bicycle (or at least new wheels, saddles, handlebars…), look for potential competitions throughout the coming season, ask for race and training nutrition tips..
A lot of this research happens during the day on the bus, before falling asleep, on the couch in front of the TV, but still takes up a lot of my free time; roughly about 4 hours a week.
Shopping
Normally I'm not the biggest fan of shopping, but when it comes to sports equipment, it can never be enough. How much time I already spent strolling through bike stores and sports shops, trying on new running shoes (of which I need at least two new pairs per year), putting on swimming goggles, looking for functional clothing. On average, that could be easily 2 hours a week!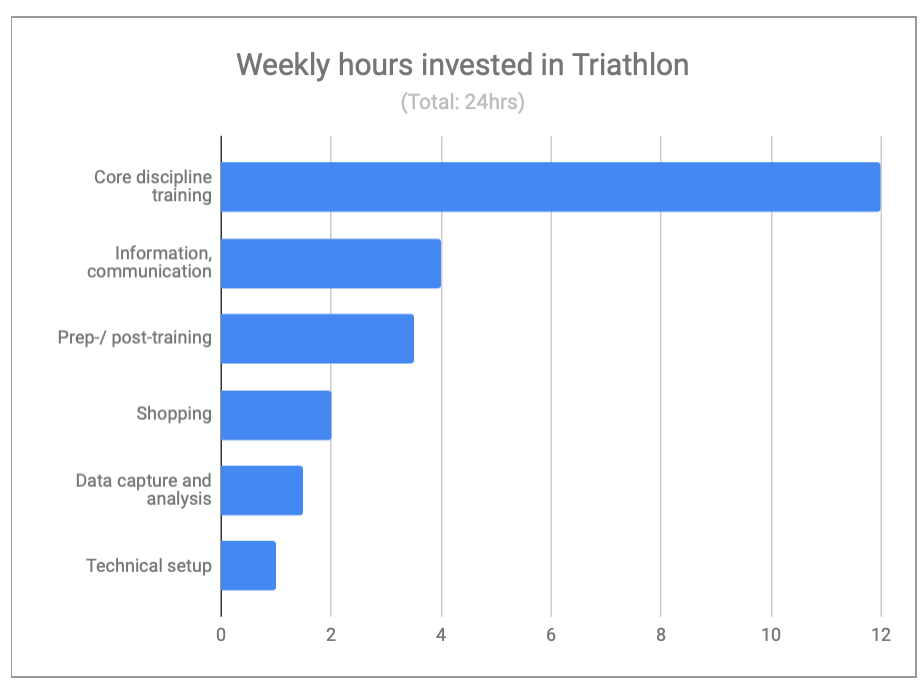 This brings me to well over 20 hours which I spend every week directly or indirectly preparing for my first long distance triathlon. When the amount of training is significantly increasing in spring, it could add up to about 30 hours per week. Ironman training is definitely not just a leisure activity, but requires discipline, passion, motivation, stamina and, most importantly, an understanding wife.