It is getting cold here in Canada, and for a while already I've been cycling indoors only. About three times per week I spend 1-2 hours before work on my smart trainer, sometimes more on the weekends. Last Saturday, though, something got me again – a so-called vEveresting challenge sounded so irresistible that I just had to try it. I jumped onto my bike at 6:30 in the morning, to ride hundreds of kilometers and thousands of meters of elevation.
Virtual Everesting
The rules are simple – get on your bike and keep climbing the same hill over and over again, until you have reached the height of Mount Everest: 8,848 meters (just above 29,000 feet). There's no time limit, but it's not allowed to sleep. The complete route must be completed in one session.
The Everesting Challenge exists in the real world, on real roads, as well as in virtual reality. The spirits divide, which is one's harder – outdoors you are exposed to nature, and you have to logistically plan much more to coordinate weather, calorie intake, and your support crew. But you get more welcomed distraction and actually feel like you're making progress; whereas at home you stare at a screen for half a day while the next hot shower or warm couch is just waiting in the room next door.
In the virtual world (that's Zwift; a training software that simulates cycling extremely realistically) you look for an ascent analogous to the real world, which you then pedal up again and again. I decided for the infamous route Alpe-du-Zwift; a virtual version of the Alpe d'Huez copied down to the smallest detail. 12.5km distance and 1,050 meters of elevation. So I would have to drive up there eight and a half times. One after the other.
---
Content
1st ascent: this is gonna be hard.
3rd ascent: this will be my last one!
4th ascent: half way there; almost.
5th ascent: this is becoming a routine.
6th ascent: this routine sucks.
7th ascent: I'm still not dead yet, so…
Some tips for other vEveresters
Some statistics about the ride
---
Preparations
For me, only the virtual version came into question at this time of year. I had no idea how long I would be capable of riding. I hadn't specifically prepared myself, although still felt very much in shape after the past training season.
The evening before I set up my "training camp":
Enough towels and clothes to change
Positioning the fan
Checking the bike
Weight myself and update Zwift accordingly
Setting trainer difficulty to 100% (to make sure the inclines in Zwift compare to the real world as much as possible)
Organize water, energy drinks, plenty of sweets and energy bars
Preparing half a kilogram of fried rice, so I could just easily heat it up the next day during short breaks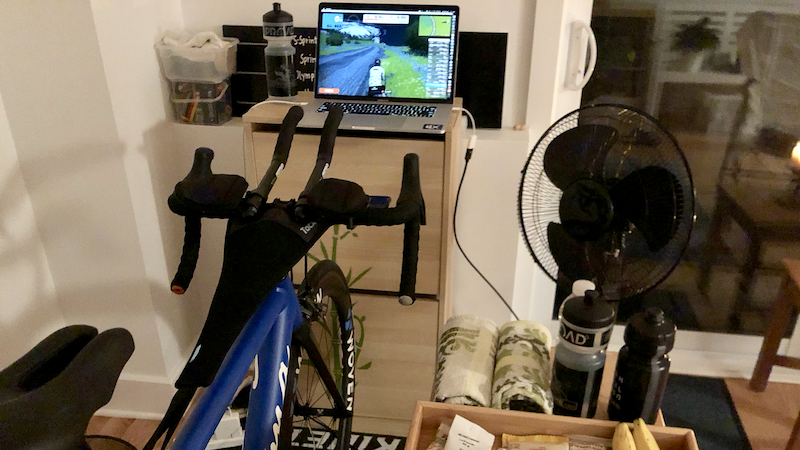 Picture above: My setup for all the hours to come. Bike on the trainer, connected to Zwift; food, drinks, fan, towels; and enough space in the room to stretch and have little breaks.
---
1st ascent: this is gonna be hard.
Saturday, 6:30 a.m.: After about eight hours of sleep I felt good, had whole wheat bread with honey for breakfast, ate a banana and got on my bike in good spirits. Let's do this!
I knew the route inside out, already thirteen times I had ridden up the Alpe over the past months. But only once I did it twice in a single session. The motivation was there, but quite quickly I noticed that due to the trainer's difficulty set to 100% (up to now I had always set it to 50%) my gear ratio was no longer sufficient; a 28 sprocket isn't the best choice to go up a 10-15% incline. I did have enough power at the beginning, though, so I pedaled up the serpentines at about 65 rpm and over 200 watts. What else should I've done without any spare parts at hand. Impossible, I thought to myself, that I could keep up this performance for a long time – for me, relaxed pedalling for several hours would mean anything around 90 rpm and 170 watts. But what the heck, it was clear to me anyway that I couldn't finish the whole thing, so this way it would just be over faster. What a ridiculous  plan in the first place.
After a little over an hour I had managed the first ascent; sweaty, but well-hydrated, and still in a good mood. No pain, no cramps. Way too much energy lost, of course, but now I had about 11 minutes for the descent – just let it roll! I used the time for some energy bars, a protein drink, chocolate. I changed my wet clothes for the first time and was fit again for the second round once I was back in the valley. Outside in real life, the sun started rising.
Cumulated elevation: 1050m/8848m
Covered distance: 30km
Time on bike: 1h26min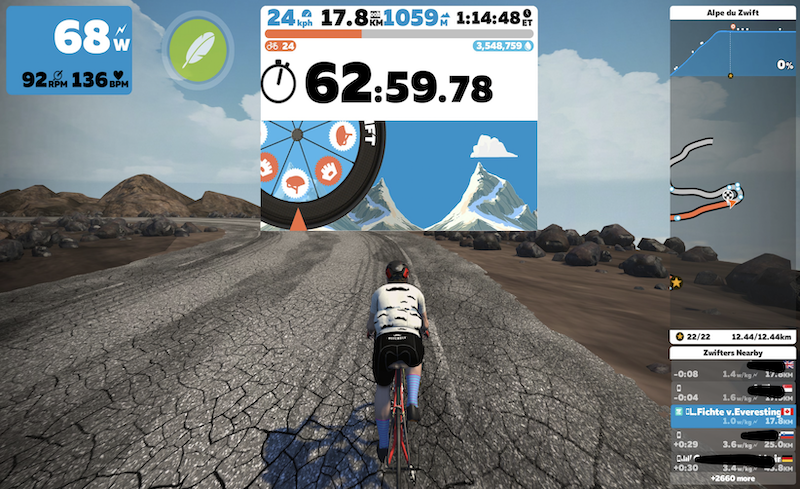 Picture above: Finishing the first climb of more than 1000 vertical meters after just above one hour (total riding time at this point: 75 minutes); the descent would last only 11 minutes and add 12.5 kilometers.
---
2nd ascent: this is easy.
The second round was perfect. I was warmed up, had consumed enough calories, and knew that I was able to reach the top even with an unfavourable gear ratio. I pedaled even harder – still convinced that I would only ride up there four times at the most and then be able to rest nicely from noon. I drank a lot, I gasped a lot, and after all I only needed 61 minutes for the whole climb; two minutes faster than the first time, and only eight minutes slower than my personal record. Remarkable, given the fact that I had been on the bike for over two hours already and had increased my weight in Zwift by four kilos (which leads to slower speed at the same power output).
Cumulated elevation: 2100m/8848m
Covered distance: 56km
Time on bike: 2h44min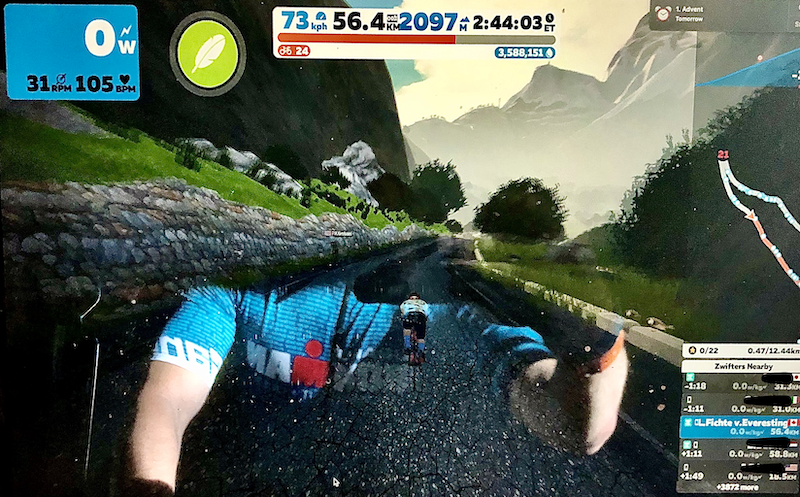 Picture above: Descending the mountain the second time. Still in a good shape, speeding down that slop at high speeds. No power input needed.
---
3rd ascent: this will be my last one!
After the second 11-minute descent, I immediately turned around and started the ordeal yet another time. This climb would turn out to be the hardest of them all. In the beginning it was still going well; especially because I was surprised by my coach Alan, who suddenly appeared in front of me on the first third of the route – I hadn't expected that at all! He offered to accompany me virtually and gave me a good motivation boost. Maybe a bit too much, because I still pedaled with more than 200 watts and only half way through the ascent it became terribly exhausting. My thighs were burning, my heart rate went up to 170, I didn't know if I should ride sitting or standing-up anymore. That would have to be the last climb for today, I was sure. Brutal, how can someone keep going up that hill eight times in a row? Again and again I received motivating messages from Alan on my screen. He's a good talker, I thought, has only been in the saddle for an hour and is a professional triathlete. Nevertheless, of course you don't give up when your own trainer is riding in front of you – and he certainly wouldn't have time to ride with me all day. I barely made it to the summit with all I had left. In only 63 minutes – just as fast as the first round.
Cumulated elevation: 3130m/8848m
Covered distance: 82km
Time on bike: 4h01min
---
4th ascent: half way there; almost.
Okay, Alan was still with me. So I had to go up again? Impressive how quickly your muscles regenerate in only eleven minutes. I turned around and went for the 22 serpentine bends to the summit as my fourth attempt. One curve after the other. Over time I found out that I it was best to keep sitting on the saddle at gradients up to 9%, and to stand up on everything above 10%. How much I'd liked to have one or two larger sprockets now! I reduced the pedal revolutions a little bit to about 55 per minute, and adjusted the power output accordingly to about 180 watts. I continued to pedal steadily, grinding up those hills. Alan was still directly in front of me. Interestingly, things went better now than during the last lap. I was a bit slower, but my pulse had returned to normal. After 67 minutes I finished the 13km climb for the fourth time.
Coach Alan said Goodbye with the words "You're not dead yet, so you can still pedal" – at first I wasn't quite sure what to think, but after all he was right. Apart from exhaustion, I had no serious complaints, so I could as well just keep going.
After the descent I decided to take a longer break; I warmed up the fried rice which I prepared the night before, changed my clothes once again, drank more protein, ate more chocolate, stretched myself a little. And finally, after 15 minutes, I got back on the saddle.
Cumulated elevation: 4170m/8848m
Covered distance: 108km
Time on bike: 5h25min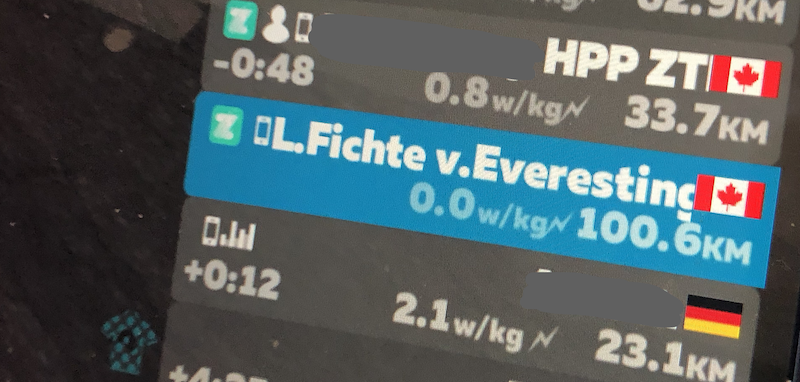 Picture above: First 100k done. And the longest time I've ever ridden a bike inside a house.
---
5th ascent: this is becoming a routine.
Almost half of the full climb I had now in my elevation account. Another one was still possible; the short break had helped. Fresh clothes, something real to eat. It was lunchtime now, and I had already spent more time in a virtual cycling session than ever before. Not for long, and the time in the saddle would top that of my Ironman competition a few months ago.
Meanwhile, the climbing almost felt like a routine. I worked my way from corner to corner and had divided the climb into smaller sections. Starting with two longer parts, followed by four short serpentines. Then again one longer stretch. Then passing a logging vehicle, which is holding up large tree trunks between curves 14 and 13 (the curves count backwards on the climb up the Alpe – from 22 to 1). Then, at curve 11, you're about half way up. At curve 9 it gets foggy and you are greeted by a tree trunk which seems to wave towards you in the fog. After curve 7 there's the longest part without much distraction, while you're cycling above the clouds. Tons of snow on both sides of the roadway. After curve 4 you'll grind along another long stretch through a tunnel before you hit the last 150 vertical meters in the final spurt. And another one done!
Incredible, I had covered over 5000 meters of elevation already – not yet the height of Mt Everest, but well above Montblanc! More than six hours cycling, longer than I had ever ridden on a road bike in one day.
The fifth ascent took me 73 minutes, much longer than the previous stages. But what did Alan say before? I was still alive, so why not just keep going. What followed was the 11-minute descent and a 20 minutes break. I needed more calories!
Cumulated elevation: 5210m/8848m
Covered distance: 133km
Time on bike: 6h55min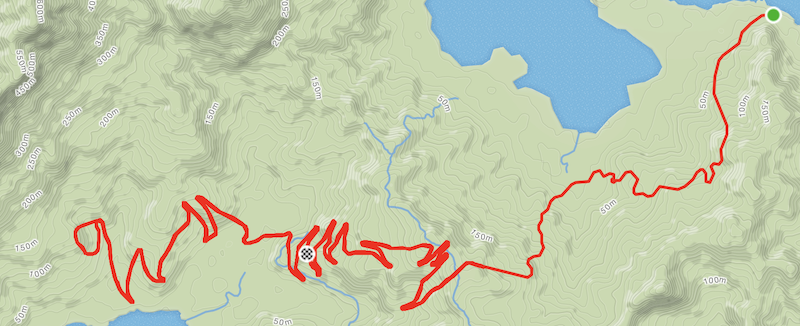 Picture above: The Strava map of the full ride. There is an 8km very light downhill from the coast to the first river, where all the climbing starts.
---
6th ascent: this routine sucks.
All beefed-up, yet another climb had started. My body started hurting all over the place – my thighs and the soles of my feet hurt, the shoulders and the neck didn't function all too properly anymore and the palms of my hands were in pain because of the above-average amount of stand-up cycling. Fortunately, the knees didn't cause any problems. Literally I was already over the mountain, but actually I still had some of it in front of me. Meanwhile my power had levelled off at about 165 watts, alternating between sitting and standing, one curve at a time. It was exhausting, no question, but at this point it had become routine in a strange way. The more often I went up, the more familiar the route became. My gaze alternately wandered across the screen and out into our garden, where the squirrels were chasing each other in the early afternoon. I had already drunk seven litres of water and probably sweated out at least as much. After 74 minutes I finally reached the summit for the sixth time – followed by the minute-long descent and another ten-minute break.
Cumulated elevation: 6250m/8848m
Covered distance: 159km
Time on bike: 8h24min
---
7th ascent: I'm still not dead yet, so…
How amazed I was to have made it this far! Only one and a half climbs still ahead of me – but who knows what surprises were yet to come. During a marathon it will get hard only at the end. For the first time, however, a success seemed realistic to me. I went on and on, almost meditatively, ever further up. Pedal on, pedal on. Turn 14, 13. Turn 11, half way up. Turn 9 and the waving tree trunk. 7 and the long stretch, turn 4 and the last 150 meters of altitude. I didn't get any faster, but I didn't slow down either: 74 minutes again. Only one more time up the entire mountain. Also, my trainer Alan had checked-in again for the last two hours – one more reason not to think about giving up anymore!
Cumulated elevation: 7280m/8848m
Covered distance: 184km
Time on bike: 9h52min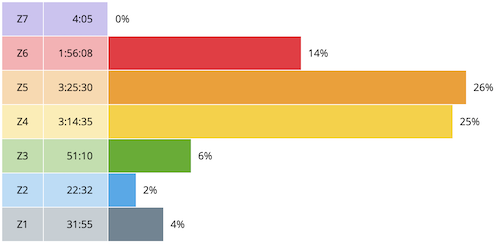 Picture above: Power zones across the full ride. Around 65% of the session done in Z4 or above – which is way above my comfort zone for endurance rides… but what can you do, if the gear ratio isn't right…
---
8th ascent: so much support!
Okay, it seemed to be manageable now. Almost ten hours of riding a bike, but not yet completed the challenge; one more full climb to go. I treated myself one last time with a good portion of rice and protein and sweets. Luckily, even after 4000 calories and ten hours of high-performance sport, my stomach still didn't cause any issues! During the quarter-hour break I had the idea to ask for some additional motivation by posting my vEveresting project in the Zwift Facebook group to get some "Ride-Ons" from other Zwifters on the way up. And as soon as I was on my way, it started raining virtual Ride-Ons almost by the second onto my digital Avatar. The cycling community really pushed me up that mountain. What a support! Alan did the all the rest needed and accompanied me reliably around each single one of the 22 curves, sent me encouraging messages from time to time – I just kept gasping and wondering how one could even type while cycling up a steep mountain. Physically I was done, my calves were about to start cramping at any moment, and the palms of my hands and soles of my feet didn't get any better either. My mind, however, was pumped and kept the thighs moving. The last full lap I managed in just over 71 minutes, full of motivation and meanwhile sure that the remaining 550 meters were now also very much possible.
Cumulated elevation: 8320m/8848m
Covered distance: 210km
Time on bike: 11h18min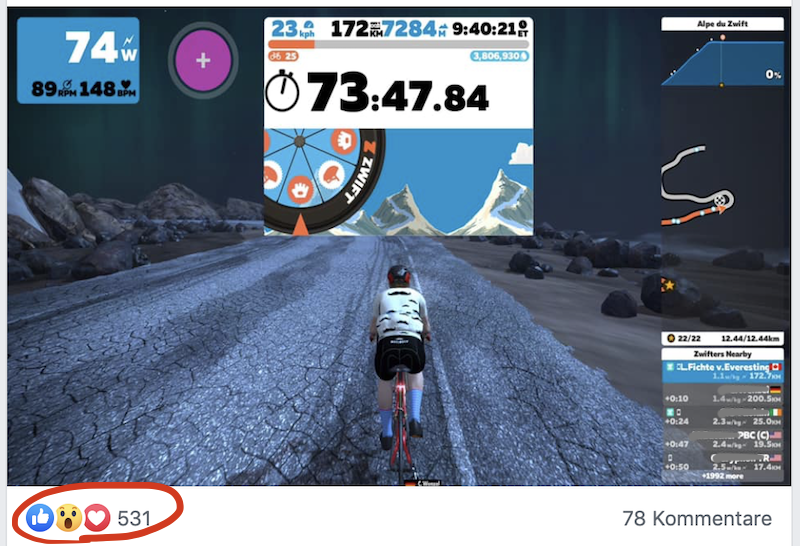 Picture above: Incredibly much support on Facebook, as well as within Zwift – that really kept me going and helped me up that mountain one last time!
---
Finale
Last downhill, a bit of stretching for a short time, and back on the saddle – the finale is near! My legs were resisting, but now they had no chance fighting against my mind anymore. Another half-ish hour riding uphill, and that thing would be canned. A little too motivated, I pedalled up the first two-three corners well over 200 watts, but then settled back into a good rhythm again. Alan's avatar was still there, it was still pouring ride-ons from the Zwift community. The last few hundred meters of altitude became more and more difficult, I counted every single one of them. Still 150 more vertical meters. Still 100. Activating my last energy savings. Finally only 50 meters. And then it was done: 8848 meters of total elevation covered!
It felt almost like finishing an endurance competition – just without any spectators, without crossing a finish line, without other athletes around you, without a medal or a finisher T-shirt, without celebrations or glamour. But also without an entry fee, happening within your own house, in the immediate vicinity of a couch, a shower and a refrigerator, and with the renewed realization that your head can demand more from your own body than you think would be possible. I was broken, exhausted; but there were shorter events during which I had suffered more. I will certainly not compete in this very challenge again – at least not indoors. Doing something similar outdoors does indeed sound appealing to me, though…
Cumulated elevation: 8848m/8848m
Covered distance: 218km
Time on bike: 11h57min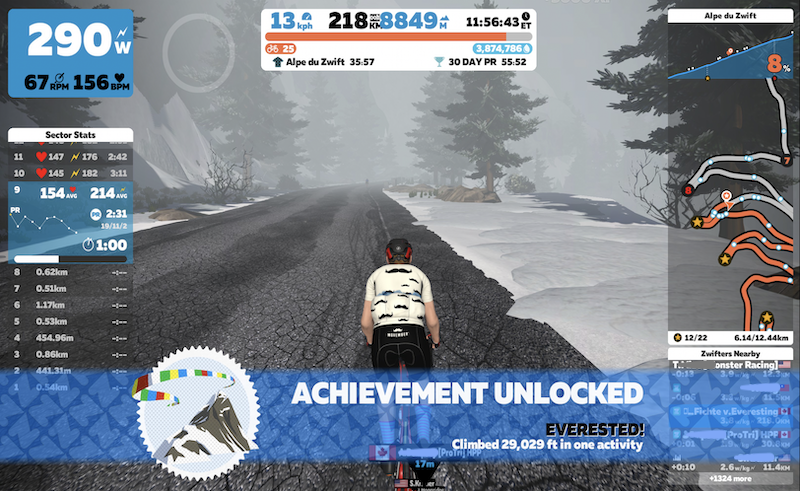 Picture above: Finished in just under 12 hours of cycling!
---
Some tips for other vEveresters
Prepare enough food, place it near your bike. I had lots of energy bars, chocolate, Powerade, protein drinks, muesli bars, biscuits. In addition the evening before fried rice (about 600 grams), which I could warm up in the microwave during short breaks.
Fresh clothes and towels. Cycling for hours on end makes you sweat. But the best fan won't be able to create enough airflow to simulate outdoor riding. I had put on a new jersey or a new pair of cycling shorts alternately after each lap.
Comfortable chair and a Pilates mat. In order to use the short breaks as regeneratively as possible, I had a comfortable chair and a mat for stretching exercises in my sports room, next to the bike.
Provide some nice atmosphere. I started in the dark and it was dark again when I was finished. Accordingly, I provided some cosiness (candle, no too bright light). After all, it's Christmas season.
Magic word: Chamois Buttr!
Mind set. Think only from ascent to ascent. After lap three I seriously thought about giving up; but obviously there was still energy for 5 more laps to get out of my legs. If you are well trained and have spent 4-5 hours on the bike before, you can make it.
Gear ratio. Try before your vEveresting attempt how your Smart-Trainer behaves at 100% difficulty and make sure you don't have to pedal at 55rpm and 3 watts/kg like me. I would have given a lot for a 32 sprocket!
Social support. I wouldn't have thought what the right social/virtual support would do at the right time. Look for acquaintances who ride along parts of the route, or make your plans public on Facebook. RideOns work wonders.
Be confident. Like in every long endurance race, there will be good and bad phases. Phases pass. Only because something isn't feel well now, doesn't mean it will still feel bad in an hour.
My Strava profile | Why I started Triathlon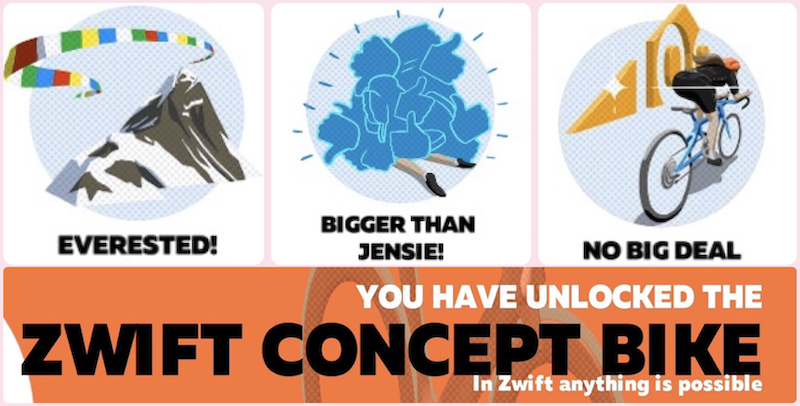 Picture above: The Zwift badges I unlocked during the ride. One for the Everesting challenge, one for more than 100 RideOns in one ride, and another one for going longer than 100 miles; plus the Zwift Concept Bike (AKA "Tron Bike") for a grand total of 50,000 meters climbing. After all, it's just a game 😉
---
Some statistics about the ride
Total time: 12h52min
Total time on bike: 11h57min
Total distance: 218km
Total elevation: 8854m
Total energy burned: 6700kcal
Total energy consumed: 4500ckal
Fluid intake: 12 liters
Average weighted power: 187W
Average heart rate: 143bpm
Average cadence: 57rpm
Weight loss over 24h: 1.5kg
Bike used: Cucuma Soleil (2017)
Smart trainer: Tacx Neo (1st generation)
Computer: MacBook Pro (2018)
HR monitoring: Garmin
Zwift points earned: 17,000 (approximately)
Advanced Zwift levels: From low 24 to high 25
---