On June 17, 2021, it's been exactly 1000 days since I immigrated from Germany to Canada. Only three more months, until I'd be eligible for citizenship, and enough time to have a first look back and reflect on what's different about living in Canada vs. living in Germany.
This is the second part of this article (first part here), in which I'll cover the following:
Cost of living
Public facilities, services, and events
Health and food
How to heat your living room
*Disclaimer: I'm writing this from a perspective of someone living in Ottawa; people living at the coast or in the Midwest or far up north may see everything a bit differently.
---
Cost of living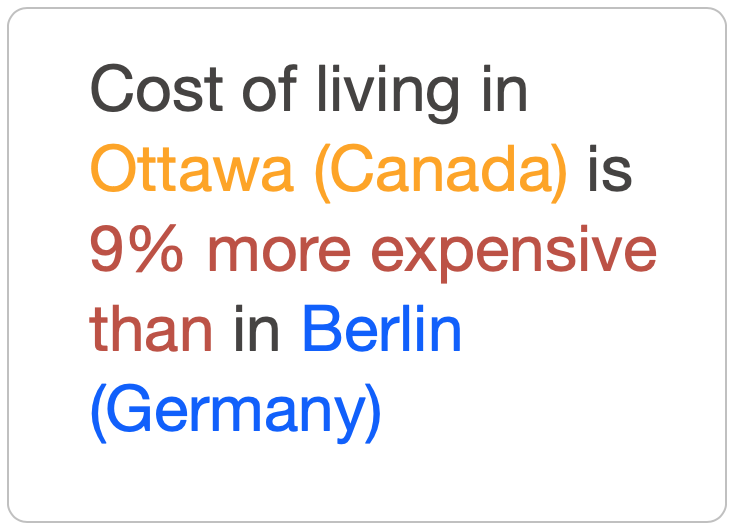 Before the decision was made to move to Canada in the first place, I spent quite a bit of time on different websites that provide cost of living calculators; pretty convenient tools: you just put in your current and future city, and they'll break down a comparison of different categories, such as housing, food, transportation, clothing, entertainment, etc. Comparing Ottawa to Berlin, it would be roughly 9% more expensive to live in Canada.
Eating is expensive
Of course, this is very much depending on individual needs (if you don't need a car, you won't benefit from cheap gas prices, for example). But the biggest driver for higher living costs really is the cost of groceries. Food is just more expensive across the board. We easily spend twice as much money on food than we did back in Germany; especially after all my office breakfast and lunches and dinners weren't a thing anymore due to the pandemic.
What about housing?
Buying or renting houses in apartments in Ottawa is crazy expensive, too, but probably not too much of a difference to large German cities. Canadian cities are spread out more, and more people live in houses than in apartments. Prices very close to downtown are insanely high. As in every city, you'll also find large differences between different neighborhoods.
Random expensive things
There's only a handful of telecommunications providers in Canada, and the market is not regulated by the government. This results in Canada being one of the most expensive countries worldwide when it comes to internet and telco network costs. What's great is that you're usually not stuck in 2 years contracts but can potentially switch on a monthly basis, but that still won't save you money due to the lack of competition and regulation. My 1 gigabit home internet (along with a phone landline) is more than 76 Euros per month – and it is getting more expensive every couple of months. The picture below (source) shows Canada as the 5th most expensive data provider in the world.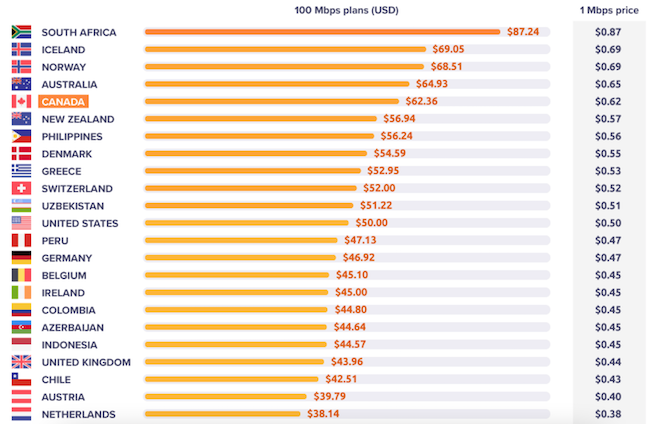 Another expense that almost knocked me out was car insurance. For my 8 years old VW Golf, that I hardly use (maybe 5000km per year), costs me around 110 Euros every month for insurance; and I found a very good deal. The first quotes I received were twice as high.
Random cheap things
Generally, energy costs are surprisingly cheap in Canada. Cubic meters of water, kilowatt hours of electrical power, or natural gas – all not even half, sometimes not even a third of what you'd be charged in Germany. One drawback, though: service charges for energy providers are very high. So ironically, your overall energy bill will be least expensive (relatively), if you use a lot of energy.
Two more things about taxes and currencies when shopping
Something that I'm still having a hard time getting used to is those taxes. Prices on labels are (in most, not all cases) shown without tax. In order to know upfront what you'll be paying, you'd have to calculate HST (harmonized sales tax) on top; based on the things you buy. Basic groceries, for example, comes without HST. For snacks, 13% are charged. Some prepared food goes for 5% if it's sold for $4 or less. Basically, you just never know what you'll be paying until you have to pay.
Which can get even more confusing is that currency thing when you shop online. I don't know how much time I already spent trying to figure out whether or not the prices are shown in US$ or CA$.
---
Public facilities, services, and events
The center of communities
What's really enjoyable are Ottawa's community centers. Every bigger neighborhood has their own community center, and some of them are equipped fantastically: besides offerings for families and children (like art courses, music lessons) they usually come with a library, fitness facilities, swimming pool, and some even with indoor ice rinks. Memberships are very reasonably priced and allow you to use facilities all over town. In 2019 I spent countless hours training in my local community center and spent not even a third of what I paid for similar offerings back in Germany. The library is free to use for everyone, and doesn't only provide books and music, but even musical instruments or museum passes to lend!
City of festivals
This city has a lot to offer when it comes to events and festivals – both, in winter and in summer! The past year unfortunately shut all of it down but luckily, we got to experience a first glance of it in 2019. Winterlude festival in February with multiple weeks of outdoor winter celebration going on, St. Patrick's Day Parade, Tulip festival starting in spring, followed by Ottawa Race Weekend. Summer's just full of happenings at all times, with Canada Day, Jazz Festival, Latin Festival, Blues Fest, Indigenous Festival, Rib Fest, International Fireworks Festival, and so on.
Free water
When you walk or run through the city, you'll find free water sources (small drinking fountains) all over the place – in public facilities, outside in parks or along running/cycling paths, in community centers. At festivals all you need to bring is an empty bottle and you'll see free water refill stations at every corner. So convenient! (While in Germany you're often not even allowed to bring your own water to an event).
If you need to empty your bladder after too much water consumption, there's also free public restrooms never far away from where you are.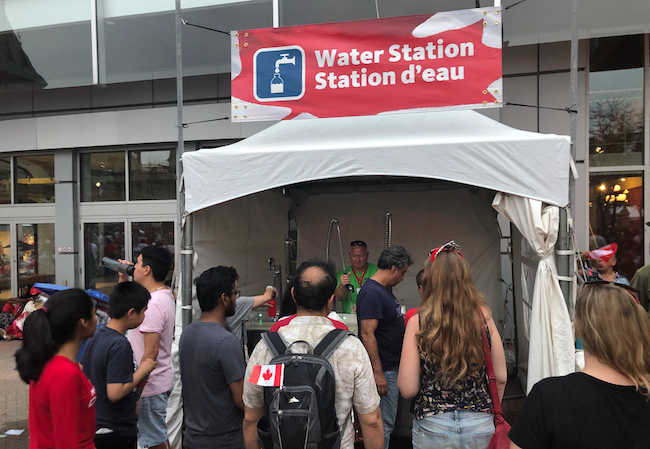 ---
Health and food
Staying healthy
While Canada's health system can be considered as a high quality one, it's not too easy to get access to everything for everyone. Compared to the situation in the U.S., Canadians are better off by getting some form of basic health insurance, that's mainly provided by each province. Here in Ontario, I am covered by OHIP (Ontario Health Insurance Plan), which takes care of all basic needs and is free of charge. I can visit a family doctor or walk-in clinic without having to fear a huge bill, same for necessary hospital stays and treatments, or ambulance services. But that's mainly about it; anything beyond the absolute basics you'd have to pay out of pocket or need extra insurance. If you're full-time employed, health insurance will often be part of the deal – especially focussing on short- and long-term disability, dental care, and vision.
Waiting times are long, and there's no way of shortcutting to a specialist. You'd always first have to visit a family doctor, no matter what the issue may be, who then would decide (or not) to send you over to a specialist.
What's for dinner?
In General, there's not that big of a difference in food consumption habits between Canada and Germany. The devil's in the details, though. I mentioned above that groceries and food here in Canada is substantially more expensive here. If you want to eat particularly healthy, you need to invest extra; standard food consists tons of sugar, or fat, or salt, and often comes in huge packaging. Best way to eat and cook healthy is buying organic food at the weekly farmers market or a selection of smaller grocery chains or smaller stores.
Food items I learned to appreciate here in Canada: Maple syrup, fresh donuts, peanut butter.
Food items I miss: German bread variations, rolls, German chocolate.
---
How to heat your living room
The quality of home construction standards is worth a full article on its own but in this last section, I need to rant a bit about heating or cooling your home. And I waited two years to publish my opinion, after really trying my best to understand… but even my fellow Canadians don't. Most houses in Ontario, the newer ones anyways, come with a furnace air heating/cooling system. There's a furnace (usually in the basement), that burns gas to heat air, which is then distributed across the building by vents. A great advantage: rooms heat up quickly. A greater disadvantage: You can't really regulate rooms individually. It really gets weird when you're living in an open concept house, with an open staircase, multiple levels, but only one thermostat and no individual radiators in any room. No matter what you try, you will never get the temperature you need. The first house we lived in was brand new, and our landlord's best tip to try to regulate heating was to take old t-shirts and stuff them into the air vents that we don't want to blow out too much heat. I leave it right there 😉
---
That's not it, though
There are so many more things that are quite unique about Canada; interesting behaviours like letting your car's engine running forever, or the preference to wait in a long line in your car instead of getting your Tim Horton's coffee much quicker in person; the way buildings are built almost entirely from wood and their lack of insulation; robocalls; beavertails; poutine; summer skiing and winter cycling, and so on. Enough to share after the next 1000 days have passed!
---
Related posts: