What you can expect when interviewing for your next employment as a User Experience Researcher
Almost 15 years have passed since I started working as a User Experience Researcher. Ever since I began my career as an intern at SAP in 2007, I've worked in a variety of different companies and industries, experienced different team sizes and setups, gained and shared expertise in many different countries, trained non-researchers in research methodology, managed small teams, hired employees. Until last year, when I suddenly lost my job and for the first time was confronted with a situation that was totally new to me and threw me off course quite a bit. With this article I want to share a summary of what job interviewing in the field of UXR currently looks like to help others prepare for their own adventure – it all can be a fun experience and will help you to learn a lot about your potential new employers, colleagues, and teams.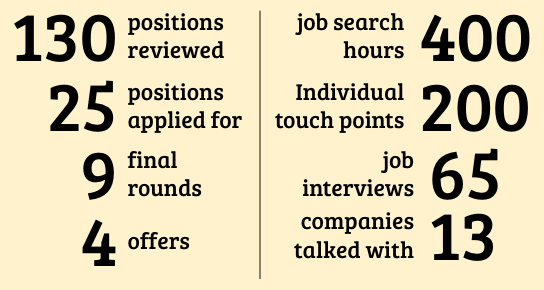 It can also feel exhausting and interview schedules sometimes seem almost intimidating. For me it took seven months of carefully researching and applying until I received my first couple of offers; and here's what I recently learned from and experienced in more than 65 individual job interviews.
What's in it for you?
While I recently published a piece on how to prepare for your next gig before you even ended the current one, this article will focus solely on the interviewing phase of your job search. I will dig into the different types of interviews you'll most likely go through when applying for a UX research position, what typical questions to expect, who you'll be talking to, how to prepare, and what some pitfalls could be. At the end, I will share some hot tips and a couple of words around salary expectations. Let me know in the comments section if there's anything to add, and feel free to contact me for questions!
So many interviews!
My first job in the field of UX I got after one single 60 minutes interview. That was in 2007. Our discipline has changed, the demand for research, too, as well as recruiting processes. I've had companies that invited me to a total of 10 interviews before entering offer stage! So please stay put, while I'm walking you step-by-step through what you may have to expect on your own journey.
Over time and across all companies a spoke with, I identified ten different types of interviews:
Initial interview / screening
Hiring manager interview
Portfolio review
Case study interview
Peer interview
Stakeholder interview
Area director interview
Thematic interview
Personality interview
Final HR interview / offering stage
Not every company does them all, some could come across as combined sessions, some will be repeated, and the order varies as well.
---
Initial interview / screening
Type: 1:1 Duration: 15-30min Sessions: 1 Interviewer: Headhunter, Internal Recruiter, HR. Content: General fit, sharing general information, process overview, collecting basic info and documents.
Whether you actively applied to a job or you were approached by an external or internal recruiter – the first personal touchpoint will most likely be some form of a screening interview. You will get an initial impression and more details about the job opportunity, the company, the team setup, and your interviewer will learn about your general motivation and fit, potentially asking for salary expectations. More often than not this is rather a formal clarification to collect basic info and make sure that both parties generally have a similar understanding and expectation about the job posted.
Typical questions to expect:
How did you learn about this job opportunity?
What do you expect from your next job?
When would you be available to start work?
Questions you can ask:
What's the company's business model? How do they make money?
Who will I be reporting into and who would be my peers? How is the current research team structured?
What does the interviewing process look like?
How can I prepare best for the next steps?
---
Hiring manager interview
Type: 1:1 Duration: 45-60min Sessions: 1-2 Interviewer: Your potential lead (i.e., UXR Manager, UX Manager, UX Director). Content: Getting to know each other, learning about each other's professional journeys, approaches and attitudes, concrete details about the position and expectations.
Getting interviewed by the hiring manager usually happens quite early in the process; which makes sense because it gives both parties the chance to get to know each other before moving on. This is potentially the beginning of a long-lasting professional relationship, so this interview is crucial for both sides. Also, an interview with the hiring manager will most likely be done a second time if you move through the process until the end.
Your future lead will provide you details about their team, your peers, your potential responsibilities, areas of work, current research problems, team growth, collaboration with other stakeholders. Most likely your hiring manager will be quite familiar with your CV, so be prepared to know exactly what you put in it.
Typical questions to expect:
What do you value in leadership? Please describe a few qualities of a good lead.
Please walk me through one of your research studies that had a big impact!
Tell me about a situation when you had to deal with negative feedback!
Which research methods are you most/least familiar with?
How do you evaluate your own work? How do you know you've been successful?
Questions you can ask:
What do you want the research team to look like in a year from now?
What are currently the biggest struggles of the research team?
How is research embedded in product development?
What's your current/future approach of scaling research across a wider area?
What would you expect me to work on over the first three months?
Which team rituals do you have in place?
---
Portfolio review
Type: 1:n Duration: 45-75min Sessions: 1 Interviewers: Usually a larger audience, consisting of typical product team members plus hiring manager. Content: You'll be talking about one or multiple of your past research projects, usually using a slide deck, plus follow-up questions by the team.
Reviewing your past work is an important recruiting step. In my own experience, those sessions tend to be held quite early in the process, typically before case scenarios and additional 1:1 interviews. This is your time to shine, because you have most of it under control – you'll basically be running the session by presenting your own expertise. You'll most likely be asked to walk the audience through one or two research studies and leave 10-15 minutes for questions afterwards. Sometimes you'll be asked to choose a study that focuses on a specific criterion (i.e., certain method selections, or problem spaces), sometimes it's all on you to choose. Your audience (usually other researchers and stakeholders) will not only watch for your presentation skills, but they'll also be looking to learn about how you phrase problems and research questions, how you planned your studies, how you collaborated with and involved your teams, how you chose your methods, selected and recruited your users, why you made certain decisions, what challenges you faced and how you overcame them, what your findings were and, most importantly (!), how they had impact on product decisions.
To prepare for a portfolio review, it's always good to have your past work examples at hand (I wrote another article on how you can start preparing for these while you're actually still happily employed in your current position). Make sure to prepare slide decks that are easy to follow for an external, unfamiliar audience. Prepare for multiple studies (not only because it is very likely that in subsequent interviews you'll be asked to talk through some examples, too). Try to select work that would reflect those skills and expertise your future job is asking for most (based on what you found out with any prior interviews) – if you're applying for a job in which you're supposed to scale research skills amongst non-researchers, choose past work that emphasized on this aspect. If you're applying for a team that specializes in mobile app development, emphasize on your expertise in this field. You get the idea. You want your audience to really see how your knowledge and experience is just the perfect addition to the team. Be prepared for very detailed questions about your work.
Typical questions to expect:
How did your research findings have an impact on product/decisions/teams/design/etc.?
How would you have approached this study if you'd only had half of the time?
What was your biggest challenge and how did you overcome it?
What would you've done differently if you'd have to start all over again?
There's typically not much time left for your own questions in this interview format.
---
Case study interview
Type: 1:n Duration: 60-90min Sessions: 1 Interviewers: Usually one or two researchers. Sometimes the presentation part involves a larger audience. Content: You'll be presented with an example case study (either in advance, sometimes without prep time) and ask to walk the audience through your thinking process and research approach.
This part of the interview process may be the one that has the most influence on a hiring decision. In this format, your audience will learn how you approach a research problem of their choice, how you structure your thoughts, how you communicate your decisions, how you critically plan a research study, and how you justify your actions.
I've experienced basically four different setups of case study interviews:
You'll be given a research problem or situation a couple days in advance. You then can work on it and hand it over prior to the interview. During the interview you guide your audience through the deck you created.
You'll be given a research problem or situation very shortly prior to the interview, basically only to have half an hour or so to quickly go over it yourself. You'll then be asked during the interview to work on your approach.
You'll be given a research problem or situation during a first short chat. You then have time to ask questions to clarify and be given around 45 minutes to work on the problem for yourself, before you meet again and present your approach.
You'll be given a research problem or situation during the interview. After a couple minutes time to clarify your questions, you'll collaboratively work on the problem with someone from the team for about 45 minutes before you present your approach to a wider audience right after.
All four setups have in common that the problem you'll be given can be quite broad, and not necessarily well phrased. Clarify potential boundaries (budget, time, team, prior research) with your interviewers, and ask for the expected outcome. Most likely they won't expect a perfectly looking research plan, but rather a good picture of how you structure your own thoughts when dealing with weird research requests coming through from product teams. One company scheduled three individual interviews with me after presenting my case study, and literally challenged my approach in very, very much detail. So if you have a couple of days to prepare, make sure you're really confident about all those little mini decisions your plan built upon.
Typical questions to expect during and after your presentation:
How would you change your research plan if you only had half the time available?
What if your product manager does not agree with the number of users you plan to involve?
How would you analyze all the data you capture during your [method]?
Questions you can ask (to clarify the scenario beforehand):
What kind of usage data do we already have?
Are there any budgetary restrictions?
Which roles are involved in the product team?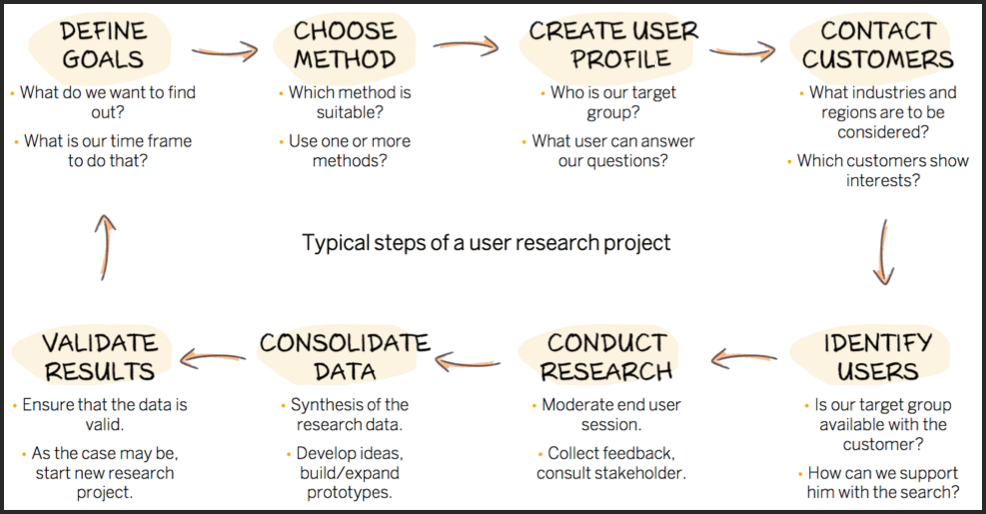 ---
Peer interview
Type: 1:1 Duration: 30-60min Sessions: 1-2 Interviewers: Future colleagues (other researchers and UX roles). Content: Learning from discipline and hierarchy peers about your role and the work environment.
Getting the chance to talk to potential future team members can be extremely valuable. You'll not only learn from their past and current research projects, how they approach their work, collaborate with each other and their stakeholders, but also about their potential struggles and challenges in everyday research work. You'll also have the chance to share your own view on research, experiences, and examples.
Typical questions to expect:
Tell me about an example where your research wasn't appreciated or taken into consideration by your stakeholders!
How do you approach your research studies as part of a multi-disciplinary team?
Hypothetical questions about certain research situations, user behaviors, or method selection
Questions you can ask:
How do you share, document, and store research findings?
How do you recruit and incentify users?
Would you please share your last research study with me? What did you do and find out?
What are typical struggles as a researcher that you're facing?
What are the most used methods you apply as researchers?
Which tools do you use to plan/run research studies and analyze/share findings?
---
Stakeholder interview
Type: 1:1 Duration: 30-60min Sessions: 1-3 Interviewers: Typically non-research disciplines like product management, data science, UX design, engineering. Content: Talking about cross-discipline collaboration and expectations.
As researchers we typically collaborate with all different kind of stakeholders on a daily basis. Getting to know some of them during job interviews is a great way to learn about their challenges, their previous experiences with researchers, their expectations and potentially their misconceptions. Most of the companies I've interviewed with let me speak with at least one UX designer, one product manager, and someone from the engineering team. Ideally, you know beforehand who you're going to meet and what their role is. It can be handy to check out their LinkedIn profile in advance, to get a head start and learn about their current responsibilities and backgrounds. Stakeholder interviews for me have sometimes been the least predictable ones – more often than not I was confronted with very interesting questions I've never heard before.
If your prospect company does not plan for stakeholder interviews, I'd always ask them to schedule at least one or two even short 20 minutes chats with some non-researchers that you'd potentially work with in your new job.
Typical questions to expect:
How do you prioritize your research when you get too many requests?
How do you defend your research findings against other disciplines' arguments (i.e., technical feasibility, time constraints, roadmap priorities)?
How do you make sure that research won't slow down our development processes?
How would explain the value of UXR to a [stakeholder role]?
Questions you can ask:
What are some questions you'd like to have a researcher help you answer?
How did you previously collaborate with researchers?
Why do you think the research role is important?
---
Area director / VP interview
Type: 1:1 Duration: 30-45min Sessions: 1 Interviewers: Director or VP within your area of work, or your hiring manager's lead. Content: Strategic mindset, leadership, communication.
The higher the position you apply for (or the smaller the company), it becomes more likely that you'll also be invited to talk to someone from senior leadership. This can also tell you a little bit about the importance of the research role and the top-down support. It's usually also a great experience to talk to a company's CEO or a Vice President or a Senior Director about their own visions, strategies, and how they think research can support their long-term goals. These interviews usually won't focus on operational research tactics and methodology, but much more on how you can help your teams prioritize their work, and how your input can look like in terms of strategic roadmap planning.
Questions to expect:
How do you share research findings with senior leadership stakeholders?
To which extent do you involve senior leadership in your research planning and execution?
Questions you can ask:
What made you decide to hire a UXR? Why now?
Tell me about when you learned something unexpected or substantial through user research findings!
To which extent would we be working together?
What are your biggest competitors?
---
Thematic interview
Type: 1:1 Duration: 30-45min Sessions: Multiple Interviewers: Different disciplines. Content: Predefined topics that will be communicated upfront.
Thematic interviews are a bit of an outlier in this typology, since any scheduled 1:1 interview could potentially focus on a specific topic or area. Some companies will communicate this very transparently upfront, others will just let you know at the beginning of a stakeholder or peer interviews, and in some cases, you'll never find out. If you're not sure what a certain chat will be focussing on, it's always good to reach out to your recruiter and ask. Some of the more structured recruiters will provide you with information like: "You'll talk with [name], [role] about [topic].". Topics for me ranged from "Collaboration with designers", "Synthesizing insights", "Research methodology", to "Working with product teams", "Stakeholder management", all the way to "Growth mindset".
Questions will most likely be along those topics, and therefore are pretty predictable. This makes it easy to prepare!
---
Personality interview
Type: 1:1 Duration: 45-60min Sessions: 1 Interviewers: Either HR or other disciplines. Content: Getting to know your mindset, your values, and your background to find out your cultural fit to the company.
Interviews that are specifically focusing on personality or values haven't been too common during my job search, and I only came across a couple. In any case, they've been fun, relaxed, interesting, and not directly work or role related; while your interview partner wants to learn more about you as a person, you'll also be able to learn more about the company's personality as an employer. Those interviews can have interesting names (i.e., "Tao interview", "Life story interview", "Values interview"), and can take place at the very beginning or very end of your interview process. They'll all focus on your own values in life, your personal background, how you solve problems or handle challenges, what makes you thrive, how you get motivated, how you balance work and life, and, after all, how you'd fit into the company's work culture.
Questions to expect:
What did you always want to become when you were a kid?
Tell me about a time when you had to deal with a difficult situation at work. How did you resolve it?
What are some misconceptions your co-workers usually have about you?
What do you enjoy doing outside of work?
Questions you can ask:
How is the company taking care of remote work challenges?
How does the company contribute to the work-life-balance of its employees?
What do you like most about working for this company?
---
Final HR interview
Type: 1:1 Duration: 30min Sessions: 1-2 Interviewers: HR Content: offer conditions, final steps.
After some long interviewing days, you finally made it – you're in the offer stage! The company you applied to is now willing to hire you. Usually there's still plenty of important things to be clarified. You'll be presented with the conditions around the offer: starting date, salary, bonus, benefits and perks, relocation package, vacation and sick leave policies. My best tip here would be to let it all sink in, ask them to provide all the details in writing, ideally including the offer letter, and take a day or two to think about questions that still remain unanswered.
Questions to expect:
Where do you stand with your other potential leads?
When would you be able to start working?
Questions you can ask:
What will the onboarding process look like?
What kind of equipment and tools will you be provided with?
What costs will you be able to get reimbursed?
Ask for the health benefits plan brochure!
How much time will you get to decide?
What's their policy around training and conference budgets?
---
That myth about brain teasers
Over the past couple of years, I participated in 85 individual job interviews as interviewee, and another 50 as part of the hiring team. Not once I heard anyone asking any of those infamous brain teasers. In fact, in my 15 years career as a UX researcher, I only remember one single time when I interviewed for my very first professional position as a UXer; the question was: "How many piano tuners work in this city?"
I did not get the job.
This might be helpful…
Selecting jobs to apply for
Once you start your job search, you'll realize how much demand there is for UX researchers, especially for folks with 3-7 years of work experience. Often, job postings read very much alike and don't tell too much about each opportunity's uniqueness. Read all of them, make notes, organize yourself. I created a large spreadsheet where I collected an overview of all the postings I even remotely considered, with columns for links to the original posting, role title, location, date, my own comments, contact person, and application status. At some point you'll have multiple applications in process, and it's easy to lose track. Mark the postings you're especially interested in, follow-up. Start early to take notes on what's special about those, what you learned about them along the way, and what you talked about with whom during interviews or in email conversations. Soon enough you may find it difficult to remember which team this person belonged to that you chatted with two days ago. I had weeks where I was interviewed by five different folks that belonged to three different companies.
Prepare well
Besides always bringing a set of your own questions to an interview, make sure to check out who you'll be talking to. In most cases, your HR contact will let you know the interviewer's name and role at the company – so you're only one click away from their LinkedIn profile. Nowadays chances are high that someone within your own contact list is also connected to your interviewer and it might be worth the try to do some additional research. It can also be a great conversation starter if you've found out some common interests upfront, and you're much more likely to be kept in mind!
Also, do your own basic research on the company you're applying at. What's their business model? Where are they located? What can you find about them in the news over the past months? What's their values and beliefs?
Last but not least, have answers ready to those basic questions, that will be asked multiple times: Examples of research studies that had big impact; difficult research situations; your preferred methods; how you deal with other stakeholders; expertise with the research tools and services you've been using. Be confident.
Expect different interviewing styles
Independently of the type of interview, I experienced so many different interviewing styles. From extremely structured interviews, during which each question was carefully phrased and read off the screen as if this was a lab setting, all the way to rather informal chats where 80% of the time was reserved for my own questions. Sometimes interview partners are well prepared and have obviously read your CV, sometimes they won't be at all.
Interviews are conversations
…, not interrogations. Always keep in mind: it's not only about how you perform in the interviews – it's also about the company you interview for! It may seem daunting to go through an eight interviews process; but the more interviews there are, the better, because you'll get the chance to learn as many things as possible before making a final decision. You'll learn about who you will be working with, how they collaborate, what they expect, how prepared they are, how it feels to talk to them, how they value research, what their future plans and strategies are. I've applied at companies I really wanted to work for until I went through their application process and changed my mind. I also applied at companies I'd never heard before, and after I'd gone through a couple of interviews, I was very impressed how much thought and effort they put into their recruiting process.
Got references?
Some employers will ask you to provide 2-3 former (or current) colleagues or managers as reference contacts. Once you made it through all interviews, they may want to reach out to the folks you worked with, to get a third perspective. Have this in mind early on, so you can potentially contact those individuals well in advance. It's best to ask in one of your first HR calls whether or not they require reference contact details later on.
When you get an offer
Reviewing an actual offer is exciting. You're only a couple signatures away from starting your next career step! Still, use the time you got to review carefully. Make sure that you understand every bit of the contract. I'd also strongly recommend having an employment lawyer go through it – investing a couple hundred dollars to have a professional looking over the paragraphs is very well worth it.
Often, some key information may not explicitly be part of the offer letter, such as expected working hours, or sick leave regulations. Make sure that you at least receive this info upfront via email, along with a copy of policies that are mentioned in the letter (travel expenses policy, for instance, or remote working, working abroad for extended periods, relocation support, health benefits details). Keep your own copies of all documents and email conversations well organized.
Money, money, money
This is probably a topic for a whole article itself. During about half of my applications I was asked for my salary expectations quite early into the process. A base salary number alone does not really tell you much about what you'll end up with at the end of the month, and what it's actually worth, so I just went with 15% above my last salary. You have to take into account all those additional monetary and non-monetary aspects: Which location will you be working at? How many vacation days? Paid sick leave? Stock options? Bonus pay? Other monetary perks like an annual training or conference budget, reimbursing working-from-home-equipment or fitness memberships? Free food? Company car or public transport passes? Health premiums? Retirement plans?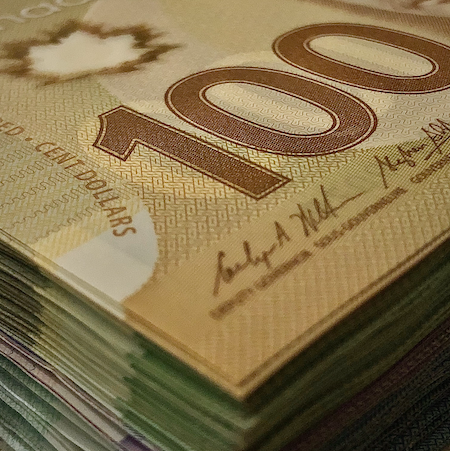 Providing your own salary expectations at the beginning of an interview process therefore is not really all too helpful for either side, in my opinion. You don't know yet what exactly this job is all about, and your HR counterpart doesn't know yet how much of a value you could actually add to the team. After both sides have gone through the full interview process, have a clear picture and are still interested in each other, the chances for you are much higher to accept something on your lower end, as well as for your potential employer to offer something more towards the higher end. Wouldn't it be a pity to miss a great opportunity only because of a yet meaningless number exchanged by two strangers?
Generally speaking though, you should regularly check your own market value once in a while. This is especially important if you've been working for one single employer for a while without any major salary adjustments, or if you're just starting your career right after graduating university.
Glassdoor or LinkedIn Salary are reasonable places to just check average salaries of similar roles in similar locations. Reflect on your own skills, too – did you receive any additional, specific training? Does some of your expertise match certain job requirements exceptionally well? Will you bring in foundational domain knowledge that others likely wouldn't? Talk to friends, former colleagues, current colleagues, and look at industry reports, such as UXR Salary Report or the German UPA Branchenreport or dedicated salary websites like Payscale. 
If you're willing or planning to relocate, checkout an online cost-of-living calculator to compare your current and future location; $100k/year working from home in a small town will be plenty for most, but the same pay in the bay area won't get you as far.
Always remember, though: no matter how much of a salary you'll get (and our profession is generally paid very well), in the long run the biggest contributing factor to job satisfaction is not the money you're paid, but work itself. Therefore, my last, and most important tip: Don't focus on the money too much – focus on how meaningful your work will be, how much impact you could have, how employees are treated and treat each other, and if the company's mission is in line with your own beliefs.
Good luck!
(Oh, and stay tuned to learn about my new gig, starting in two weeks!)
---
Related posts:
4 things you should always do before you loose your job
10 reasons why working for SAP is great – and 1 why I still left