What is my job?
Since about one decade I've been working as a User Experience Researcher at SAP SE – the market leading provider of business software and employer of close to 90,000 colleagues around the world. My responsibilities as a UX Researcher involve supporting software development teams in getting close to their end-users, understanding their users' needs and pain points and eventually, to create software which is not only usable and intuitive, but also enjoyable and desirable to use.
This can be accomplished by personally visiting our current users to interview and observe them during their everyday work; by letting them validate early ideas we have and prototypes of user interfaces we created; by running customer workshops and focus group discussions; and, last but not least, by providing UX related training to internal colleagues, enabling them to establish an own understanding and skillset of user research methodology.
In addition, I share my knowledge and expertise with students and young professionals by regularly lecturing at the German Usability Professionals Association summer and winter schools.
Working as a UX researcher can be appealing in multiple ways – it is an extremely diversified job which allows you to experience both side of the business software world: development and usage. Travelling the world for user research and training has always been a unique chance to get to know different cultures and regions.
For more information, please visit my LinkedIn profile.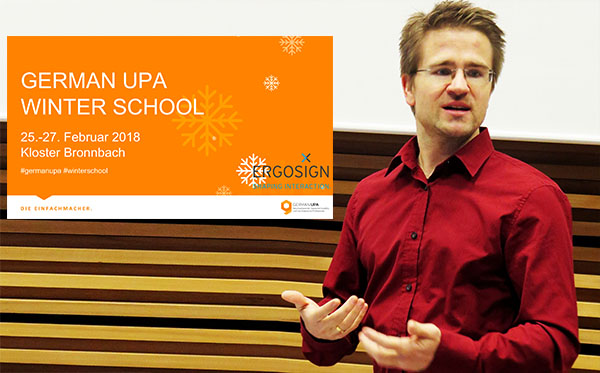 What is my background?
From 2005 to 2010 I studied Psychology of Communication at Hochschule Zittau/Görlitz (University of Applied Sciences). This study provided a strong background on communicational, behavioural, and perceptional Psychology in combination with Human Computer Interaction, Usability, and User Experience. This gave me the chance to get into those topics quite early, allowing to gain UX expertise long before my first professional engagement.
My diploma thesis focussed on a user-centric and method-based development of a mobile user interface; applying user research methods such as observations, interviews, paper prototyping, and usability tests.
In 2017 I received UX certification by NN/g after having participated in the UX Conference in London, UK.
More information
German UPA Summer School | Winter School
Hochschule Zittau/Görlitz (Psychology of Communication)