Today, I am looking back at about 10 months of specific and continuous training. Since mid-December, I have been following a detailed training plan, tailored to my needs and created by Alan, my coach. I've done thousands of miles in my legs and arms, hours of training, and now it's only two weeks to find out what all the time, effort, and money was actually worth.
To say the least: I managed the training season largely free of injuries and illnesses; which I am very thankful for. The amount of preparation for long distance triathlon is enormous and until not too long ago I couldn't even imagine how much time I had to put into it. My most intensive week consisted of close to 20 hours of training, and on average it was more than 12 hours.
Every day I got up at 5 in the morning to do a one or two hours of training, just to do an additional one during the evening on some days.

Time to recover
Today, two weeks before my first full Ironman triathlon, I had completed my final long session: 90km of cycling, followed by 26km of running. It was my longest brick training so far, and I was on the road longer than during my last big competition; but also, I was able to gain a lot of self-confidence. I can hardly believe it myself, but now I actually feel able to finish an Ironman!
Two weeks before the race, time of active recovery begins. My body has been through a lot in the past few months. Now it's time to find a good mixture of plenty of sleep, good food, enough minerals and fluids, and active regeneration – so that I can jump into the water in top shape on August 18!
New toys
Motivation has never really been an issue to me during the past year. The recovery days without sport often were more difficult to bear than those with two or even three units. But nevertheless – it's just part of the triathlon spirit to once in a while get some new toys. This year, for me that were two things: a power meter and an aerodynamic set of wheels.
A power meter allows you to plan your training sessions way more accurate; the force put onto the pedals by my legs is precisely measured during the ride and displayed to me at all times so that I don't run the risk of pushing too much or too little. Speed or heart rate on the bike are not good indicators for training regulation, since wind and ascents or descents are playing a big role. However, the effort you put into your pedals is independent of external factors and helps me to regulate myself or to train in certain predetermined power zones.
The new wheels, on the other hand, are rather a pragmatic and an aesthetic enhancement. The deep rim profile offers noticeably better aerodynamics (correspondingly higher speed at the same effort) and finally makes my road bike look like an actual triathlon bike.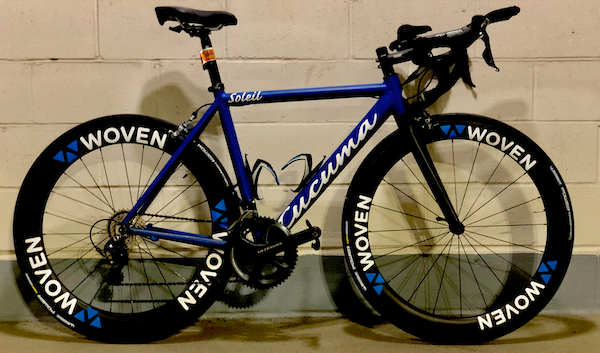 The coach – curse and blessing
It was already in December when I had decided to leave my training planning up to a coach. This would not only save a lot of time (familiarizing with that whole idea of training theory would have taken me ages before being able to create good trainings plans), but it would also help me to slow down a bit (and stay injury-free), produce smarter training sessions, and give me lots of first-hand experience. I joined one of the local triathlon clubs and met Alan, who has started training me ever since. Alan is a triathlon professional, has long distance experience, and knows both the Ottawa area and the conditions in Mont-Tremblant, where I will be competing in a few weeks.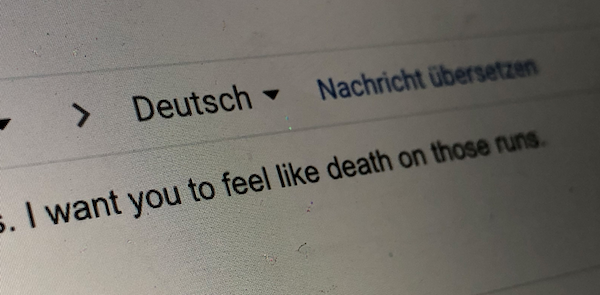 Every week, Alan creates my training plan – when I have to train which sport in which intensity and duration. Extremely helpful. Although curse and blessing at the same time: some of these sessions were quite painful.
It's summer (finally)!
After summer had finally arrived in Ottawa at the end of May, I moved my training to the outdoors quite consistently. Hundreds of kilometers of cycling through hilly Gatineau Park, where the roads are closed to automobiles on Sunday mornings; swimming in Meech Lake, where you can swim for miles without seeing anyone else; and running along Ottawa River. Once you know the places, Ottawa actually turns out to be a training paradise. And the weather mostly is just gorgeous- often quite humid, but constantly warm, only little rainfall.

Nutrition strategy
An important part of training is to learn how to eat enough food during exercise. In two weeks, I will probably do at least 11-12 hours of endurance sports and will burn some 7000 calories. At least part of that I have to consume directly while cycling and running, which not only is a physiological challenge, but a logistical one as well. Ultimately, there is not one solution for everyone; what one tolerates, the other spits out again. And when your body provides its blood to the muscles rather than to the stomach, the may not be able to handle solid food anymore.
What I planned for race day:
Coffee and toast with honey for breakfast, along with bananas and apples (700cal)
Banana and Powerade drink before swim start (250cal)
Clif bar after the swim (250cal)
Tailwind mix (basically water with sugar, electrolytes, minerals) on the bike (1500cal)
Clif bars on the bike (500cal)
Sandwiches on half way on the bike (600cal)
Tailwind mix on the run (1000cal)
=4800cal
And in two weeks, I'll know how realistic all that's gonna be. Can't wait!