Over the past years we have moved quite a bit. From Görlitz to Dresden, from Dresden to Mannheim, and even within Mannheim I changed apartments three times before final moving into our house. Relocating to another continent seems to be a totally different story. I'd never have expected to be handing so much paperwork and bureaucracy. Good for us, that we were very well supported by a reloction partner of my future employer.
What to bring?
It all started in March already. A representative of our moving company came visit the house to get an overview about all the goods needed tob e packed. Which turned to be almost everything except the kitchen – sofa, beds, drawers and shelfs, tables and chairs, clothes, dishes, books, folders, linens, pillows, blankets, desks, bicycles, garden furniture, shoes, tools, office materials, bags, suitcases, sports equiptment. On the other hand we had to get rid of a couple of things, too – all of our plants, which wouldn't survive weeks and weeks in a container (and most of them were not allowed to be imported, anyway). Also, most of our electrical devices had to stay in Germany, due to different voltage in Canada (110 vs. 220); almost none of our devices had a voltage switch on them: Electrical tools (sabre saw, power drill, etc.); kitchen tools (electric kettle, waffle iron, raclette grill); garden tools (lawnmower, hedge trimmer, lawn trimmer); my beloved 75 inch TV; small devices like hair-dryer, iron, hot glue gun); washing machine. We had to decide which ones of these we would sell, store somewhere, or give away.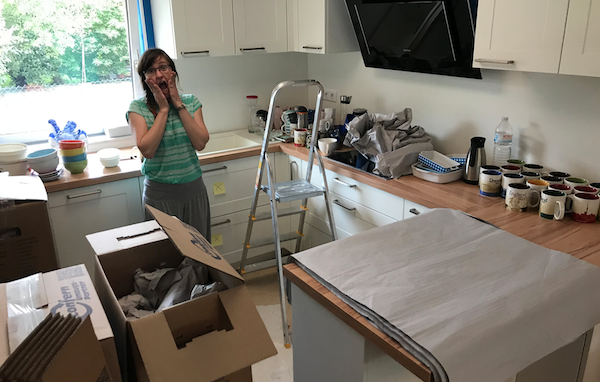 Inventory
An even bigger task was tßhe next bureaucratic act: to make sure all our goods would be insured during transportation, we had to inventory all belongings into an Excel list. First, I was quite excited about that, being an Excel lover. The template we received from the insurance company, though, was everything but usable, nor customizable. Creating an inventory list therefor took forever. Days and days we spent counting everything we owned, listing it by item, number, and estimated value – we counted pairs of socks, books, CDs, plates, cups, blankets, pillows, jackets, furniture, sports equipment, musical instruments, vases, Rubik's cubes, underwear, purses (!), pairs of shoes (!!!), pictures, mirrors, carpets, decoration, and everything else what needed to be shipped across the ocean. In one way that was quite an interesting task to do, in another one, it was quite tedious.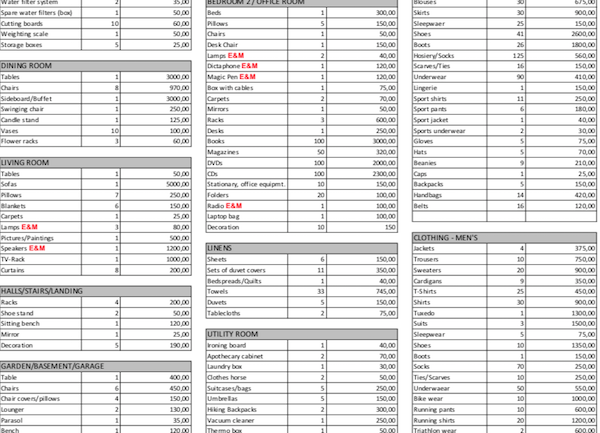 Sorting it out
The relocation company affirmed, that we basically did not have to pack anything ourselves; no emtying out the shelves or dismantling furniture. The only thing we had to make sure was to clearly identify on moving day which of our belongings will be put into the container, and which had to stay. Given these circumstances, our house didn't really look like emigration until the very end, and many of our friends commented accordingly when visiting.
Sorting itself was quite a challenge, though. We ran out of space quickly; our basement and garage was already full of boxes anyway, and we had to find some kind of system to organize ourselves without losing an overview. We had multiple categories:
Everything intendet to be shipped
Travel luggage Ludwig (for immigration in September)
Temporary housing and travel luggage Christina (for immigration in December)
For sale or to give away
Stays in the house (sold inventory)
To be stored at friends and family
Bulk garbage, electrical waste, etc.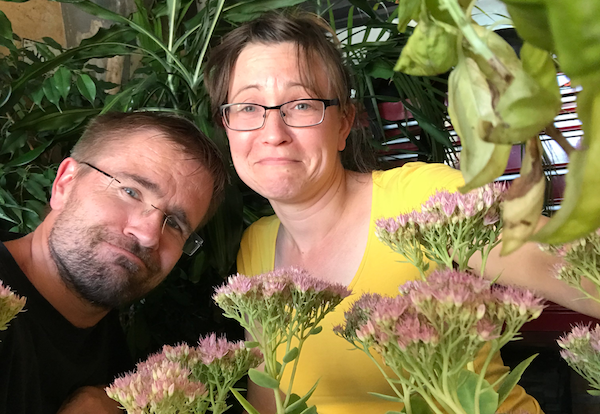 The last four to six weeks bevore moving were a bit chaotic; we had to juggle around the boxes, re-organizing them, changing their contents all the time. In fact, some things we even added to what we already had: All kinds of convenience goods (i.e. detergent, cleaning agent, bodywash, shampoo, body care products, tooth paste and much more) we decided to stack up in Germany to have a good supply for the first couple of months. This way we had the chance to slowly get used to the products (and their prices!) in Canada. As long as everything was in its original packaging and not flammable, no restrictions applied (other than keeping it non-commercial). At the end we had about 15 kilograms of drugstore products…
D-Day
And suddenly, the day had come. On September 13, 2018 the truck arrived, along with a five-strong moving team; ready to dismantle and pack all of our belongings. For two days.  Which turned out to be two strange days. We were watching those guys emptying one cupboard after another, preparing it to be shipped; every plate, every cup was wrapped in paper, every bike in foil. Wardrobes, bed, shelves and desk got dismantled, sofa, dining table and cabinet packed in cardboard and bubble wrap, everything else into countless boxes. No end was in sight, but still, time went by fast. It really felt weird, watching strange men packing all inventory of your own house (yet).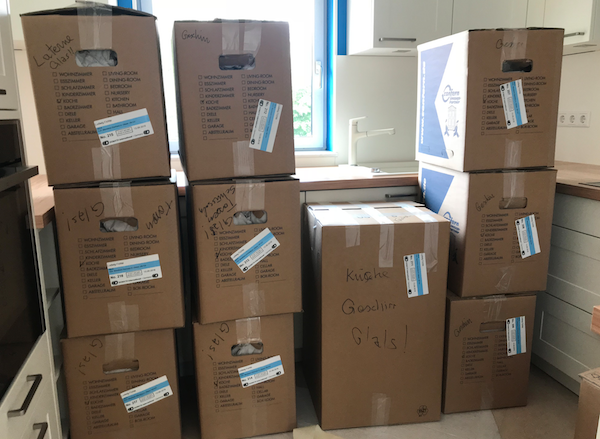 After day one, everything was boxed in – costs for packing material alone: more than 500 Euros… Day two was dedicated to loading a total of 223 cartons/items into the truck, marking each one of them, and listing them onto a twelfe pages document. And then, all of the sudden, the house was empty. Just like before we moved in only two years ago (only nicer). For the first time, emigration felt real; and so did the associated melancholy – we did have two lovely years in that place, after all.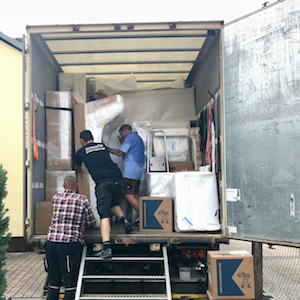 Handover
Two days were left for us to clean everything up one last time for our successors. One last time our kitchen, oven, sink, floors and basement received our full attention. In the meantime we had already moved into a temporary apartment, which would host the both of us until my departure, and Christina until hers in December.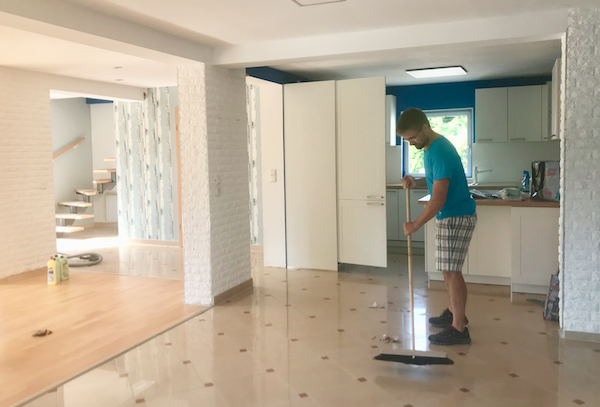 On September 17, 2018 we handed over our house to the happy vendees. Again, an akward experience. Giving away your own living space (even only after two years) to strangers is quite different from selling a used bike. Especially, if you don't even know yet what to expect in the near future for yourself.
Continue reading with step 5: Travel arrangements